Yuki Suetsugu's "Chihayafuru" becomes the top-selling shoujo manga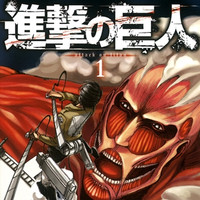 Digital bookstore eBook Japan, which has one of the largest manga catalogs in Japan with about 490,000 volumes, has announced its top 10 ranking of 2016 for each categories including male manga, shoujo manga, and light novels, based on the numbers of downloads between January 1 and November 20, 2016.
While the sales of its print edition has kept dropping (11,728,368 copies in 2014 to 8,778,048 in 2015 to 6,544,081 in 2016, becoming a half in three years), Hajime Isayama's Attack on Titan still holds its top position at the digital bookstore's general and male manga rankings for four consecutive years since 2013. One interesting entry is Yoshiki Takaya's long-running sci-fi action series Bio Booster Armor Guyver in the fourth, which has run in Japan for over 30 years and is still loved by many manga readers.
Meanwhile, the most downloaded shoujo manga of the year was Yuki Suetsugu's Chihayafuru. The karuta-
themed series has been running in Kodansha's BE LOVE magazine since 2007, and its two live-action film
adaptations released this spring have pushed the sales of the original manga.
---
Male Manga Top 10
1. "Attack on Titan" Hajime Isayama(Kodansha, 20 volumes)
2. "Kingdom" Yasuhisa Hara (Shueisha, 44 volumes)
3. "Hunter x Hunter" Yoshihiro Togashi (Shueisha, 33 volumes)
4. "Bio Booster Armor Guyver" Yoshiki Takaya (Kadokawa, 32 volumes)
5. "Delicious in Dungeon" Ryoko Kui (Enterbrain, 3 volumes)
6. "Boku Dake ga Inai Machi" Kei Sanbe (Kadokawa, 8 volumes)
7. "Zenaku no Kuzu" Daisuke Watanabe (Shonemgahousha, 5 volumes)
8. "Space Brothers" Chuya Koyama (Kodansha, 29 volumes)
9. "The Seven Deadly Sins" Nakaba Suzuki (Kodansha, 23 volumes)
10. "One Piece" B&W edition Eiichiro Oda (Shueisha, 83 volumes)
---
Shoujo Manga Top 10
1. "Chihayafuru" Yuki Suetsugu (Kodansha, 33 volumes)
2. "Nigeru wa Haji da ga Yaku ni Tatsu" Tsunami Umino (Kodansha, 5 volumes)
3. "Otaku ni Koi wa Muzukashii" Fujita (Ichijinsha, 2 volumes)
4. "Oremonogatari!!" Kazune Kawahara/Aruko (Shueisha, 13 volumes)
5. "Sotozura ga Yoi nimo Hodo ga Aru" Ira Ozaki (Shogakukan, 1 volume)
6. "Tokyo Tarareba Musume" Akiko Higahsimura (Kodansha, 5 volumes)
7. "Toumei na Yurikago" Okita x Hana (Kodansha, 4 volumes)
8. "Akatsuki no Yona" Mizuho Kusanagi (Hakusensha, 21 volumes)
9. "Kimi ni Todoke Remaster Edition" Karuho Shiina (Shueisha, 27 volumes)
10. "Umimachi Diary" Akimi Yoshida (Shogakukan, 7 volumes)
---
Light Novel Top 10
1. "Is It Wrong to Try to Pick Up Girls in a Dungeon?" Fujino Omori (SB Creative, 11 volumes)
2. "KonoSuba: God's Blessing on This Wonderful World!" Natsume Akatsuki (Kadokawa Shoten, 10 volumes)
3. "Re:Zero -Starting Life in Another World-" Tappei Nagatsuki (Kadokawa Shoten, 11 volumes).
4. "Kimi no Na Wa. Another Side: Earthbound" Arata Kanou (Kadokawa Shoten, 1 volume)
5. "No Game No Life" Yu Kamiya (Kadokawa/Media Factory, 9 volumes)
6. "Grimgar of Fantasy and Ash" Ao Jumonji (Overlap Bunko, 9 volumes)
7. "Regarding Reincarnation to Slime" Fuse (Micro Magazine, 9 volumes)
8. "Goblin Slayer!" Kumo Kagyu (SB Creative, 3 volumes)
9. "Is It Wrong to Try to Pick Up Girls in a Dungeon?: Sword Oratoria" Fujino Omori (SB Creative, 6 volumes)
10. "Mushoku Tensei: Isekai Ittara Honki Dasu" Rifujin na Magonote (Media Factory, 12 volumes)
Source: eBook Japan press release
© Hajime Isayama/Kodansha
© Yuki Suetsugu/Kodansha
© Fujino Omori/SB Creative Corp. illustration:YASUDA SUZUHITO