Internationally acclaimed director has also worked on his new hand-drawn feature film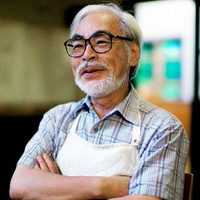 Movie Natalie has reported that Studio Ghibli producer Toshio Suzuki said at the talk event with Tomohiko Ishii (The Sky Crawlers) held at DNP Plaza in Tokyo yesterday that Hayao Miyazaki's new short film Kemushi no Boro/Boro the Caterpillar will be completed by Spring 2017 and is scheduled to be screened at the Ghibli Museum in June or July of the year. Miyazaki has directed nine short films for the exclusive screenings at the museum in Mitaka, Tokyo, including Mei to Koneko Bus/Mei and the Kittenbus in 2002, a 14-minute sequel to his 1988 film Tonari no Totoro/My Neighbor Totoro.
After finished directing his 11th feature film Kaze Tachinu/The Wind Rises, Miyazaki has been attached with Kemushi no Boro since the summer of 2015. It is expected to be a 12-minute short drawn with hand-drawn animation and CG. As with other shorts, it will be screened exclusively at the museum's Saturn Theater.
As previously reported, Miyazaki has also launched his new hand-drawn anime feature film project.
According to Anime Hack, Suzuki commented on the film, "I hope he can work on it to the end." In
the NHK documentary aired last month, Miyazaki, who is 75 now, said that it would be much better
to die when making a film than when doing nothing. So Suzuki added, "As the people who watched
the documentary can understand, I really hope so."
Miyazaki's yet-titled new feature film is scheduled to be released in the middle of 2019.
鈴木敏夫が宮崎駿、寅さん、トトロ、毛虫のボロについて縦横無尽トーク https://t.co/7LbEbV32VS pic.twitter.com/4efqHp6ioT

— 映画ナタリー (@eiga_natalie) December 6, 2016
【アニメニュース】鈴木敏夫プロデューサー、宮崎駿監督の長編アニメ復帰を示唆「最後まで作れればいいな」 https://t.co/CPDMltUpL7 #アニメ #anime pic.twitter.com/Wb1mkVZEYX

— アニメハック (@animehackcom) December 6, 2016
Source: Movie Natalie, Anime Hack