Side story series "Sword Oratoria" also ranks 13th this year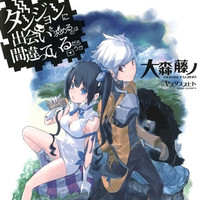 Book Walker, one of the largest digital bookstores in Japan, today announced its sales ranking of 2016 for 12 categories based on the sales figures between November 16, 2015, and November 15, 2016. Now over 300,000 titles (70,000 up from last year's 230,000) from major Japanese publishers, including Kadokawa, Kodansha, Shueisha, and Shogakukan, are digitally available via the service.
Last year's top-selling series, Fujino Omori's Is It Wrong to Try to Pick Up Girls in a Dungeon? once again dominated the overall sales ranking that included all genres. The light novel series has been published from SB Creative's GA Bunko since January 2013. It first ranked 33rd in 2014, then thanks to the TV anime adaptation produced by J.C.Staff, jumped up to No.1 last year. Its side story series Sword Oratoria by the same author also ranked 13th, and its upcoming TV anime adaptation to premiere in April 2017 will definitely push the sales more. Over 50 titles in the overall sales top 100 of this year were light novel series.
---
Overall Sales Top 10 Series
(last year)
1 (1). "Is It Wrong to Try to Pick Up Girls in a Dungeon?" (Fujino Omori/GA Bunko)
2 (22). "KonoSuba: God's Blessing on This Wonderful World!" (Natsume Akatsuki/Kadokawa Sneaker Bunko)
3 (47). "No Game No Life" (Yu Kamiya/MF Bunko J)
4 (11). "Lord Marksman and Vanadis" (Tsukasa Kawaguchi/MF Bunko J)
5 (93). "Boku dake ga Inai Machi" (Kei Sanbe/Kadokawa Comics A)
6 (83). "Chihayafuru" (Yuki Suetsugu/Kodansha Comics BE LOVE)
7 (38). "Death March to the Parallel World Rhapsody" (Hiro Ainana/Kadokawa Books)
8 (9). "Mushoku Tensei: Isekai Ittara Honki Dasu" (Rifujin na Magonote/MF Books)
9 (12). "Log Horizon" (Mamare Touno/Enterbrain Hobby Shosekibu)
10 (55). "Delicious in Dungeon" (Ryoko Kui/Beam Comics)
---
Shonen Manga Top 10 Series
1 . "Boku dake ga Inai Machi" (Kei Sanbe/Kadokawa Comics A)
2. "Delicious in Dungeon" (Ryoko Kui/Beam Comics)
3. "NEW GAME!" (Shotaro Tokunou/Manga Time KR Comics)
4. "Trinity Seven: 7-nin no Masho Tsukai" (Kenji Saito/Akinari Nao)
5. "The Bride's Stories" (Kaoru Mori/Beam Comics)
6. "Gekkan Shoujo Nozaki-kun" (Izumi Tsubaki/GanGan Comic Online)
7 (8). "Arpeggio of Blue Steel" (Ark Performance/Young King Comics)
8. "Drifters" (Kouta Hirano/Young King Comics)
9. "Fate/kaleid liner Prisma Illya 3rei!!" (Hiroshi Hiroyama/Kadokawa Comics A)
10. "Non Non Biyori" (Atto/MF Comics Alive)
---
Shoujo Manga Top 10 Series
1 (1). "Chihayafuru" (Yuki Suetsugu)
2. "Oatku ni Koi wa Muzukashii" (Fujita/Ichijinsha)
3 (15). "Log Horizon Gaiden: Nyanta-honcho Shiawase no Recipe" (Mamare Touno/Kadokawa Enterbrain)
4 (6). "Mr. Nietzsche in the Convenience Store" (Matsukoma&Hashimoto/MF Comics)
5. "Noumen Jyoshi no Hanako-san" (Ryo Oda/Kodansha)
6 (3). "Ore Monogatari!" (Kazune Kawahara&Aruko/Margaret Comics)
7 (2). "Snow White with the Red Hair" (Sorata Akizuki/Hana to Yume Comics)
8. "Hyakushou Kizoku" (Hiromu Arakawa/Wings Comics)
9. "Showa Genroku Rakugo Shinju" (Haruko Kumota/KCx Itan)
10 (4). "Akatsuki no Yona" (Mizuho Kusanagi/Hana to Yume Comics)
---
Source: Book Walker via press release