2nd album "Around the TRUE" will be available on February 22, 2017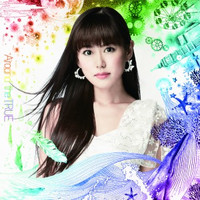 Lantis has posted a two-minute short version music video for "Rainbow The Daydream," the lead track from 33-year-old anison singer TRUE's upcoming 2nd full album "Around the TRUE" and a four-minute digest video of her sold-out first solo live concert at Shimokitazawa Garden in Tokyo on March 6, 2016. The full footage of the concert will be contained in the Blu-ray disc that comes with the limited edition of the album to be released on February 22, 2017.
The album also includes her 6th single song "Hiryu no Kishi" (Undefeated Bahamut Chronicle OP), 7th single "STEEL -Tekketsu no Kizuna-" (Mobile Suit Gundam: Iron-Blooded Orphans 1st season ED), 8th single "Divine Spell" (Regalia: The Three Sacred Stars OP), and 9th single "Soundscape" (Sound! Euphonium 2 OP).
""Rainbow The Daydream" short MV
1st LIVE "Joy Heart" at Shimokitazawa Garden digest
First press limited edition CD jacket
Regular edition
Artist photo
【一挙大公開!】2/22発売2nd ALBUM「Aroud the TRUE」のアーティスト写真・ジャケット写真・リード曲MV short ver・初回限定盤特典ダイジェスト映像大公開!#あらつる #TRUEさんhttps://t.co/JCTGmz3Q6e pic.twitter.com/0vbIvyfeo0

— TRUE_staff (@TRUE_staff) December 15, 2016
---
6th single song "Hiryu no Kishi" (February 10, 2016)
7th single "STEEL -Tekketsu no Kizuna-" (February 24, 2016)
8th single "Divine Spell" (July 27, 2016)
9th single "Soundscape" (October 12, 2016)
Source: TRUE official website
© Lantis