Filming in Tokyo has been underway since early this month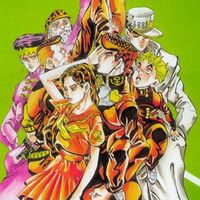 The official website for the upcoming live-action film adaptations of JoJo's Bizarre Adventure: Diamond Is Unbreakable, the fourth story arc of Hirohiko Araki's long-running JoJo's Bizarre Adventure manga series, today confirmed that its first chapter will be released in Japan on August 4, 2017.
Release date for the following chapters is still unknown. Probably whether we will see more live-action Jojo films will depend on the first chapter's box office performance. For example, Takashi Miike's previous film Terra Formars reportedly had a plan for a sequel before release, but after the first film's poor performance at Japanese theaters, it's all gone.
\公開日決定!/
『ジョジョの奇妙の冒険 ダイヤモンドは砕けない第一章』の公開日が2017年8月4日(金)に決定しました!#ジョジョ映画 pic.twitter.com/jibKg4esd8

— 映画『ジョジョの奇妙な冒険』公式 (@jojomovie_jp) December 15, 2016
According to the film's official Twitter, filming in Sitges, Spain, was already finished, and the production
team has been working in Tokyo since early this month.
"Filming in Sitges was finished safely, and the filming in Tokyo has already begun. We had a ramen
catering service at the set today. The cast members really enjoyed the dishes."
シッチェスでの撮影も無事に終了し、東京での撮影が始まっています
本日は撮影現場にラーメン屋台の差入れがあり、キャストの皆さんも喜んで食べていました。#ジョジョ映画 pic.twitter.com/VqM4KIGSqC

— 映画『ジョジョの奇妙な冒険』公式 (@jojomovie_jp) December 6, 2016
"I found a penguin statue in the living room at the Higashikata house."
東方家のリビングでペンギン見つけました。#ジョジョ映画 pic.twitter.com/kfb91y3Ibt

— 映画『ジョジョの奇妙な冒険』公式 (@jojomovie_jp) December 13, 2016
Teaser
Announced main cast:
Josuke Higashikata: Kento Yamazaki (22/Yuuki Hase in One Week Friends)
Jotaro Kujo: Yusuke Iseya (40/Aoshi Shinomori in Rurouni Kenshin)
Koichi Hirose: Ryunosuke Kamiki (23/Akito Takagi in Bakuman.)
Okuyasu Nijimura: Mackenyu (19/Arata Wataya in Chihayafuru)
Keicho Nijimura: Masaki Okada (27/Hibito Nanba in Space Brothers)
Yukako Yamagishi: Nana Komatsu (20/Miho Azuki in Bakuman.)
Anjuro Katagiri/Angelo: Takayuki Yamada (32/Hideyoshi Hashiba in Nobunaga Concerto)
Tomoko Higashikata: Arisa Mizuki (39/Reiko Kudo in Reiko, the Psyche Resurrected)
Ryohei Higashikata: Jun Kunimura (60/Kubal in Attack on Titan)
Source: "JoJo's Bizarre Adventure: Diamond Is Unbreakable" live-action film official website, Twitter
"JoJo's Bizarre Adventure" manga image © LUCKY LAND COMMUNICATIONS/SHUEISHA LION