Shinji Rachi (ex-Johnny's Jr. member) will join as Itachi Uchiha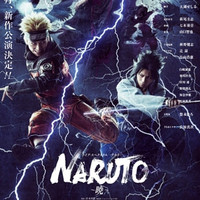 Soon after the last performance of its second world tour in China yesterday on December 18, the official website for Live "Spectacle Naruto," the stage play adaptation of Masashi Kishimoto's internationally popular action manga series, announced that its second play titled "Live Spectacle Naruto- Akatsuki no Shirabe (The Melody of The Dawn)-" is set for May 2017.
The first stage play was performed 62 times in Japan, Macau, Malaysia, and Singapore from March to June in 2015, then its re-run was held in Japan from July to August of this year and its second world tour ran in China and Malaysia from October to December.
All of the main cast, including Koudai Matsuoka as Naruto Uzumaki, Ryuji Sato as Sasuke Uchiha and Yui Ito as Sakura Haruno, are scheduled to return. 33-year-old Shinji Rachi (ex-Johnny's Jr. member) is confirmed to join as Sasuke's brother, Itachi Uchiha.
"Live Spectacle Naruto- Akatsuki no Shirabe" main visual
【本日情報解禁!】2017年5月、ライブ・スペクタクル「NARUTO-ナルト-」新作公演決定!タイトルは『ライブ・スペクタクル「NARUTO-ナルト-」~暁の調べ~』。詳細は公式HPで!https://t.co/6iZo1fYsmy pic.twitter.com/ECAbQnvPKd

— 舞台「NARUTO-ナルト-」公式 (@naruto_stage) December 17, 2016
---
CM for the 1st play DVD released in August 2015
CM for the 2nd play
Chinese tour main visual
Source: "Live Spectacle Naruto" official website
(c) Masashi Kishimot Scott/Shueisha
(c) Live Spectacle "Naruto" Production Committee 2016