Streams Thursdays at 8:40am PST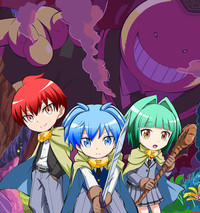 Hark! New anime announcement time! Koro Sensei Quest! – a new series based on the Assassination Classroom spin-off manga of the same name by Jo Aoto and Kizuku Watanabe – is coming soon to Crunchyroll (and Funimation to boot).
Koro Sensei Quest! streams Thursdays at 8:40am PST and will be available in the following territories: US, Canada, UK, Ireland, Australia, New Zealand, South Africa and will be available to premium members in Sweden,Norway, Denmark, Iceland and Netherlands.
About Koro Sensei Quest!
Get ready for a strange but fun-filled adventure with your favorite group of assassins. The killer class is back but this time they've got…magic?! In this brand new spin-off series, follow the chibis of Class 3-E as they learn swordsmanship and sorcery at Kunugigaoka Magic School. Their mission? Defeat the evil Demon King Koro Sensei and face the trials and perils of their magical school!
---
Patrick Macias is editor in chief of Crunchyroll News & Otaku USA magazine. He is also the writer of HYPERSONIC music club, Paranoia Girls, & PARK Harajuku: Crisis Team! He is currently serializing his latest writing project on Wattpad.