Breakable or unbreakable, that is the question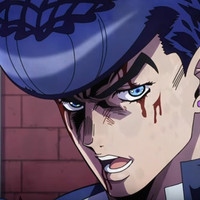 Si la saga Jojo's Bizarre Adventure continue toujours en manga, l'animé qui adapte l'arc Diamond is Unbreakable est quant à lui presque terminé, et le site officiel dévoile à l'occasion une vidéo promotionnelle pour le dernier épisode de la série.
Cette vidéo a été d'abord diffusée sur le stand de Warner Bros lors de l'événement Jump Festa qui s'est tenu le week-end dernier. Le dernier et 39e épisode de la série adaptée du manga de Hirohiko Araki sera quant à lui diffusé ce vendredi 23 décembre.
Vous pourrez bien entendu retrouver l'épisode en question, ainsi que le reste de la série, sur Crunchyroll.
Synopsis : Fils illégitime et caché de Joseph Joestar, Josuke Higashikata est un lycéen un peu rebelle, mais possédant un puissant Stand (représentation de sa force psychique et de son esprit combatif). Lorsqu'un membre de sa famille le retrouve, il le met en garde contre un manieur de Stand qui se cache dans sa ville. Josuke va découvrir qu'il s'agit de bien plus qu'une simple menace...
Source : CR.US