TV anime 2nd season is set to premiere on January 6, 2017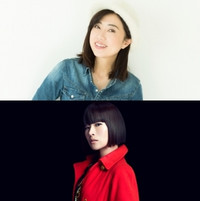 The official website for 49-year-old voice actress Megumi Hayashibara has announced that her next 42nd single "Imawa no Shinigami" (The Death in His Dying Moment) will be released on February 22, 2017, and will be also featured as the OP theme for the upcoming second season of the Showa Genroku Rakugo Shinju TV anime based on Haruko Kumota's rakugo (traditional storytelling performance)-themed manga.
Her previous 41st single "Usura Hi Shinju" (Thin-ice Double Suicide) released in February 2016 was used for the TV anime's 13-episode first season aired from January to April of this year. As with the first OP song, "Imawa no Shinigami" is written/composed/arranged/produced by popular J-Pop singer-songwriter Sheena Ringo. The TV anime second season "Sukeroku Anew Arc" is set to premiere in Japan on January 6, 2017, and Hayashibara will reprise her role as ex-geisha girl Miyokichi.
Megumi Hayashibsra
(C) Copyright King Record.Co.,Ltd.
Sheena Ringo
© 2016 UNIVERSAL MUSIC LLC
【林原めぐみ×プロデュース:椎名林檎夢のタッグが再び!!】
TVアニメ「昭和元禄落語心中 –助六再び篇-」OPシングル『今際の死神』(いまわのしにがみ)2月22日に発売決定!
1期同様に全て椎名林檎さんが作詞・作曲・プロデュースを手掛け、豪華ミュージシャン陣が参加!#落語心中 pic.twitter.com/2oIBeMIOxl

— アニメ「昭和元禄落語心中」 (@rakugoshinju) December 22, 2016
---
1st season OP "Usura Hi Shinju" MV
"Showa Genroku Rakugo Shinju: Sukeroku Anew Arc" TV-Spot
Source: Megumi Hayashibara official website
© Haruko Kumota,Kodansha/"Showa Genroku Rakugo Shinju" Production Committee