Maki Nishikino VA Pile denies the breakup of the unit itself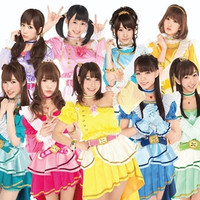 Oricon today announced its top-selling rankings of the year 2016. μ's, the nine-member voice actress unit from the Love Live! School Idol Project franchise earned about 2.54 billion yen (about 21.6 million US dollars) from the sales of its music CDs and live DVD/Blu-rays, becoming the 10th top-selling artist of the year.
Last year the unit sold about 801,000 units of their CDs and DVD/Blu-rays and made 3.15 billion yen (about 26 million US dollars). Their first position in the ranking was 64th in 2013, then they jumped up to 13th in 2014 and 8th in 2015.
The rankings were based on the data gathered by Oricon from 23,800 stores in Japan from December 28, 2015, to December 19, 2016. The top-selling artist of the year was Johnny's Entertainment's five-member boy idol group Arashi with 12.18 billion yen. They have kept the top position for four straight years.
μ's
Top 5 Artist in Japan of 2016
1. Arashi (12.183 billion yen)
2. Sandaime J Soul Brothers from EXILE TRIBE (8.256 billion yen)
3. Nogizaka46 (7.437 billion yen)
4. AKB48 (6.947 billion yen)
5. Kanjani∞ (4.788 billion yen)
---
μ's held their last solo concert "μ's Final Love Live!" at Tokyo Dome on March 31 and April 1, 2016.
While the fans have considered that they have actually been broken up, the Maki Nishikino voice actress
Pile recently answered to a fan's email in her own Nico Nico live program "Channel Tojipai Fin," saying
"μ's is not broken up. We just have no more plans for live activities by all of us together. "
And today on December 24, M-ON! Entertainment released "LisAni! Vol.27.1 Love Live! Bokura no Ongaku
Taizen" that features all of the musical activities of the Love Live! franchise, including the 60-page
interviews with the nine members of μ's.
Source: Oricon