San Diego concert DVD/Blu-ray will be released on January 25, 2017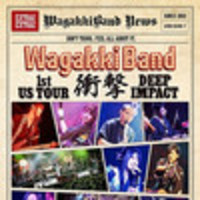 Eight-member Japanese rock band Wagakki Band has posted a 80-second trailer for their upcoming live DVD/Blu-ray "Wagakki Band 1st US Tour Shougeki -DEEP IMPACT-" to be released on January 25, 2017. The first disc of the two-disc set contains their live performance at House of Blues in San Diego on July 14, and the second disc includes one-hour documentary of their first American tour that ran through three cities: Los Angeles (Club Bahia) on July 12, San Diego, and San Francisco (The Fillmore) on July 16.
DVD/Blu-ray trailer
Blu-ray jacket
DVD jacket
---
Trailer for the US tour
Source: Wagakki Band official website
©2016 avex music creative. All rights reserved.