14th PreCure TV anime series is set to premiere on February 5, 2017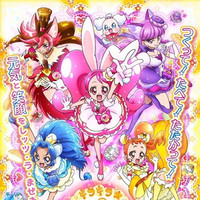 Toei Animation today updated the official website for the next 14th PreCure TV anime series, Kirakira☆PreCure A La Mode, revealing the visuals and names of its five main girls: Usami Ichika/Cure Whip, Himari Arisugawa/Cure Custard, Aoi Tategami/Cure Gelato, Yukari Kotozume/Cure Macaron, and Akira Kenjyo/Cure Chocolat. And it is confirmed to premiere in Japan on February 5, 2017.
【新プリキュア情報解禁】
ビジュアル&放送日発表!プリキュアシリーズ14作目「キラキラ☆プリキュアアラモード」2017年2月5日(日)スタート!つくって!たべて!たたかって!元気と笑顔をレッツ・ラ・まぜまぜ!https://t.co/XcIcVSa15i #precure pic.twitter.com/p90OmCJskx

— 東映アニメーション公式 (@toeianime_info) December 25, 2016
The story premise is written as follows:
The protagonist Ichika Usami is a second year middle school student who loves sweets. When making a
shortcake for her mother who will return from abroad soon, she encounters Pekolin who is very hungry.
The shortcake made by Ichika is filled with her heart, and the "Kirakiraru" energy lodged in sweets is
spilled out from it. Then a bad fairy who is looking for "Kirakiraru" appears and makes the cake all black.
To protect the cake filled with her feeling of love, Ichika transforms into a legendary Patissier PreCure,
"Cure Whip."
(From left): Cure Chocolat, Cure Gelato, Cure Whip, Cure Custard, Cure Macaron
【キラキラ☆プリキュアアラモード】
新プリキュア紹介♪
宇佐美いちか/キュアホイップ
有栖川ひまり/キュアカスタード
立神あおい/キュアジェラート
琴爪ゆかり/キュアマカロン
剣城あきら/キュアショコラ
キャラ詳細こちら☆https://t.co/6JL4kQLkuF pic.twitter.com/Px9Dcb3Uah

— 東映アニメーション公式 (@toeianime_info) December 26, 2016
Toei Animation also opened the official YouTube channel for the PreCure franchise and posted a 14-second
PV to introduce the character visuals.
Pretty Store in Osaka starts displaying the character standees from today.
今日からプリキュアプリティストアでは『キラキラ☆プリキュアアラモード』のパネルを設置しているよ♪みんな新しいプリキュアに会いにきてね!※写真は大阪本店です。 #PPS #プリキュア #プリティストア pic.twitter.com/ZBYSp4qb9C

— プリキュアプリティストア (@pps_as) December 26, 2016
---
Kohei Kureta (Saint Seiya Omega) and Yukio Kaizawa (Rowdy Sumo Wrestler Matsutaro!!) jointly served
as the series director, alongside series composition writer Jin Tanaka (Go! Princess PreCure, Anne Happy)
and character designer Marie Ino (Servant × Service animation director). Yuuki Hayashi, recently worked
on Haikyu!! and My Hero Academia, provides the soundtrack music and this is the first time for him to join
the PreCure franchise.
【新プリキュア情報発表】
「キラキラ☆プリキュアアラモード」メインスタッフ
シリーズディレクター:暮田公平、貝澤幸男
シリーズ構成:田中仁
キャラクターデザイナー:井野真理恵
美術デザイン:飯野敏典
音楽:林ゆうき
スイーツ監修:福田淳子#precure pic.twitter.com/0t8xiQRaOe

— 東映アニメーション公式 (@toeianime_info) December 25, 2016
The OP theme song ""SHINE!! Kirakira☆PreCure A La Mode" is performed by 25-year-old Yuri Komagata.
She was one of the finalists in the 5th All Japan Anison Grand Prix held in 2011, then made her anime voice
actress debut in the 2013 TV anime Mangirl! playing Aki Torii and also singing the OP theme song for it with
other three main VAs. She has also performed as Sayoko Takayama for The [email protected] Million Live! franchise
since 2015.
Message video from Komagata
The ED song "Let's La Cooking☆Show Time" is sung by 27-year-old Kanako Miyamoto. No need to explain
to the PreCure fans, she was the singer of the four ED songs for the 4th/5th series Yes! PreCure 5/Yes! PreCure
5 GoGo! in 2007-2009, and voiced Makoto Kenzaki/Cure Sword in the 10th series DokiDokiPreCure! in 2013-2014.
After taking a hiatus from activities due to her health issues from February 2014 to July 2015, now she appears
to be entirely recovered.
Message from Miyamoto
【新プリキュア情報発表】
「キラキラ☆プリキュアアラモード」主題歌

◼︎OP
「SHINE!! キラキラ☆プリキュアアラモード」歌:駒形友梨
◼︎ED
「レッツ・ラ・クッキン☆ショータイム」歌:宮本佳那子https://t.co/Yxy5LJYeOy #precure pic.twitter.com/6DDFlNuxHD

— 東映アニメーション公式 (@toeianime_info) December 25, 2016
---
And it is also confirmed that the girl featured in the main visual of the upcoming film PreCure Dream Stars!
is not one of the five members of the Kirakira☆PreCure team. The new film is set to be released in Japan on
March 18, 2017.
"PreCure Dream Stars!" teaser
Source: "Kirakira☆PreCure A La Mode" official website
© ABC, Toei Animation