The limited figures are now displayed at the Seibu Ikebukuro department from today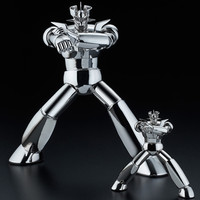 Tokyo-based crafts and toy company Kougei will start accepting orders for platinum figures of Mazinger Z, a Japanese super robot created by Go Nagai in the early 1970s, in two sizes, 120 mm and 50 mm, on January 1, 2017. Only one figure in the former size (850 g) will be made, and it will be sold at the price of 14 million yen (excluding tax/about 119,600 US dollars). The 50 mm-size figure (150 g) will be offered 50 at 2,017,000 yen (17,232 US dollars).
Nagai will celebrate his 50th anniversary as a manga artist next year, and his Dynamic Planning supervises the memorial items. Both the Mazinger Z manga and TV anime were launched in 1972, and 2017 is also the franchise's 45th anniversary year. The figures are now displayed on the 6th floor of the Seibu Ikebukuro department store in Tokyo from today.
The figure comes with a paulownia box
"Mazinger Z" anime visual
Go Nagai
Source: Kougei press release
© GO NAGAI/DYNAMIC PLANNING