4,752-yen special edition is set to be released on July 24, 2017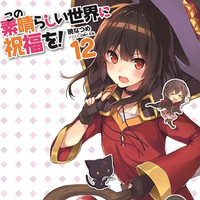 Kadokawa's official online store today started accepting pre-orders for the 4,752 yen (about 41 US dollars) special edition of the forthcoming 12th volume of Natsume Akatsuki's fantasy comedy light novel series Kono Subarashii Sekai ni Shukufuku wo!/KONOSUBA -God's blessing on this wonderful world!. As with the previous 9th volume released in June 2016, the made-to-order edition will come with an original anime Blu-ray, an alternative novel cover, and an illustration box drawn by the novel illustrator Kurone Mishima. The story of the anime episode is newly provided by the novel author Akatsuki, and it will not be aired on TV.
Pre-orders will be accepted till March 31, 2017, and the special edition will be released on July 24.
【書籍】本日、12/26よりオリジナルアニメを収録した原作12巻<限定版>の受注が開始されました ♪ オリジナルアニメは原作者暁なつめ書き下ろしエピソードをシナリオ化!ファン垂涎の限定版です!!詳しくはこちらをチェック☆⇒https://t.co/wQuAnJowEO #このすば pic.twitter.com/YFrHAeFWkI

— TVアニメ『このすば』公式ツイッター (@konosubaanime) December 26, 2016
Source: "Kono Subarashii Sekai ni Shukufuku wo!" TV anime official website
© Natume Akatsuki, Kurone Mishima/KADOKAWA
© Natume Akatsuki, Kurone Mishima/KADOKAWA/Konosuba Production Committee