Rupert Sanders-directed film hits Japanese theaters April 7, 2017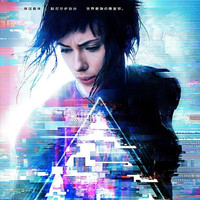 The Japanese official website and Twitter for the upcoming live-action film adaptation of the popular Japanese sci-fi action franchise Koukaku Kidoutai/Ghost in The Shell originally created by Masamune Shirow today posted a teaser poster visual featuring Scarlett Johansson as the protagonist "The Major." The tagline is written as "The Body is Gitai (artificial body), Only the Brain is Hers. The World Strongest Investigator."
\ティザーポスタービジュアルが到着!/
映画の世界観に通ずる、サイバーテイストな雰囲気が印象的なデザインに仕上がっています。公開を待ち望むファンに向けて、スカーレット・ヨハンソンからメッセージも!⇒ https://t.co/J0nidUUS9m #スカヨハ攻殻 pic.twitter.com/z1tKeZZ06u

— 『ゴースト・イン・ザ・シェル』 (@ghostshell_JP) December 27, 2016
The cast also includes Beat Takeshi as Daisuke Aramaki, Juliette Binoche as Dr. Ouelet, Michael Pitt as
Kuze, and Pilou Asbæk as Batou. The Rupert Sanders (Snow White and the Huntsman)-directed film is
set to be released in the US on March 31, 2017, then will be released in Japan one week later. Flyers using
the teaser visual will be distributed at Japanese theaters from December 29.
Japanese trailer
"Intermission" clip
Source: "Ghost in The Shell" Japanese official website, Twitter
© MMXVI Paramount Pictures and Storyteller Distribution Co.All rights Reserved.