Starts 1/8 at 8:30am PST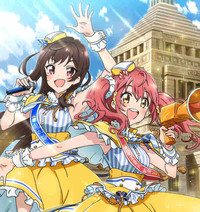 Pop music and politics collide in the latest simulcast announcement from Crunchyroll as the new series Idol Incidents joins the winter 2017 anime lineup.
Idol Incidents begins streaming Sunday 1/8 at 8:30am PST and will be available to Crunchyroll members worldwide except Asia.
The show page will be available soon at crunchyroll.com/idol-incidents
About Idol Incidents
The story is set in a parallel Japan very similar to the modern Japan we known today. Increasing income divide, creeping environmental pollution, unsolvable garbage problems, childcare waiting lists being disputed while those directly involved aren't present, repeated cases of corruption... Japan's government, entrenched in its own vested interests, can do nothing about the abundant problems and discontent throughout the land. Now, at long last, idols are taking a stand to rescue a nation with no way out! The Heroine Party, the Sunlight Party, the Starlight Party, the Bishoujo Party, the Wakaba Party, the Subculture New Party, and the SOS Party: idols from these seven idol political parties who have become Diet members representing each prefecture will crash through the sense of stagnation that surrounds Japan with their song and dance! They will bring back the people's smiles and envelop Japan in their shining aura!
MAPPA and VOLN, recently co-produed the Ushio and Tora TV anime series, work on anime production, with Daisuke Yoshida (Ushio and Tora episode director/animation director) directing. 47-year-old Tsunku, well known for his producing work for Morning Musume and many other Japanese idol groups, serves as the sound director for the theme songs for the anime.
The project originally launched in June 2014, and now has a manga series illustrated by Koko Natsuki (Detective Opera Milky Holmes manga series) that has been serialized in Kadokawa's Dengeki G's Comic magazine.
-----
Patrick Macias is editor in chief of Crunchyroll News & Otaku USA magazine. He is also the writer of HYPERSONIC music club, Paranoia Girls, & PARK Harajuku: Crisis Team! He is currently serializing his latest writing project on Wattpad.