Starts tomorrow, 1/3 at 8:30am PST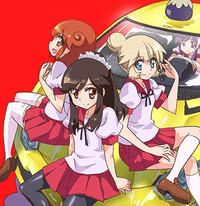 Strap yourself in for another wild week of new anime announcements at Crunchyroll! And the first title of the week is the latest season of Ai-Mai-Mi Surgical Friends, based on the manga by Choboraunyopomi.
Ai-Mai-Mi Surgical Friends begins streaming tomorrow, 1/3, at 8:30am PST and will be available to Crunchyroll members worldwide except Asia.
About Ai-Mai-Mi Surgical Friends
Ai, Mai, and Mi belong to the manga research club and have fought off alien invaders as well as rivals in tournaments. But as usual, Ai's the only one actually drawing any manga...
TUNE INTO CRUNCHYROLL NEWS TOMORROW FOR MORE NEW ANIME ANNOUCEMENTS!
-----
Patrick Macias is editor in chief of Crunchyroll News & Otaku USA magazine. He is also the writer of HYPERSONIC music club, Paranoia Girls, & PARK Harajuku: Crisis Team! He is currently serializing his latest writing project on Wattpad.