Starts 1/6 at 9:30am PST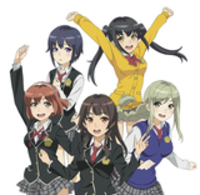 It's been an epic day filled with new anime announcements, and now there's one more title to share before we black out: School Girl Strikers, based on Square Enix's "light novel style RPG" smart phone game, is set to begin streaming soon on Crunchyroll. Read on for full details!
School Girl Strikers begins streaming Friday, 1/6, at 9:30am PST and will be available to Crunchyroll members worldwide except Asia.
About School Girl Strikers
The newly established private high school for girls, Goryoukan Academy, has a hidden face that people on the outside don't know about...
Mysterious apparitions called "Oburi" have appeared from a rift in space-time. The only ones capable of fighting this enemy of mankind are girls known as "Strikers," who have the ability to sense the fifth dimension. Goryoukan Academy is actually an organization that seeks out girls who are more than meets the eye and trains them up for the "Fifth Force," a combat force created to subjugate the Oburi. The story of the battles and friendships of five girls who comprise the newly assembled team "Altair Torte" is about to begin!
School Girl Strikers is directed by Hiroshi Nishikiori (A Certain Magical Index) and features animation by J.C. Staff (Amanchu!, Taboo Tattoo). According to Dengeki Online, the voice actors for the smart phone game will be reprising their roles for the TV anime adaptation.
-----
Patrick Macias is editor in chief of Crunchyroll News & Otaku USA magazine. He is also the writer of HYPERSONIC music club, Paranoia Girls, & PARK Harajuku: Crisis Team! He is currently serializing his latest writing project on Wattpad.