Starts Tuesday 1/10 at 11:05am PST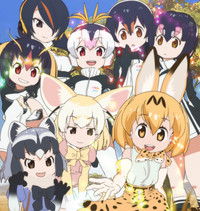 The new season of anime is about to GET WILD with the addition of Kemono Friends, based on Nexon's Zoo RPG smart phone game, to Crunchyroll's ever-growing line-up of simulcasts.
Kemono Friends, directed by Tatsuki and featuring animation by YAOYOROZU, begins streaming Tuesday 1/10 at 11:05am PST and will be available to members worldwide except Asia.
About Kemono Friends
About The story takes place in Japari Park, an enormous integrated zoo built somewhere in this world. A mysterious substance found there, called "Sand Star," causes the animals to turn into humanoid beings called "Animal Girls"! These new creatures spend every day peacefully with the zoo's visitors... but after some time, a lost child turns up in the park. The child's attempt to find the way home turns into a great adventure with the Animal Girls!
-----
Patrick Macias is editor in chief of Crunchyroll News & Otaku USA magazine. He is also the writer of HYPERSONIC music club, Paranoia Girls, & PARK Harajuku: Crisis Team! He is currently serializing his latest writing project on Wattpad.