Toei Animation's magical girl series aired for four seasons from 1999 to 2003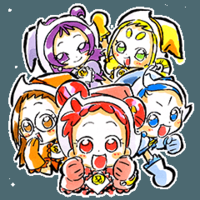 The official Twitter of Toei Animation's merchandise division today announced that an official LINE stamps featuring the main characters from its Ojamajo Doremi franchise is now available at Japan's LINE store. A set of 40 colorful illustrated icon set is offered at 120 yen. All the illustrations are newly drawn by the original anime character designer Yoshihiko Umakoshi.
The first four Ojamajo Doremi TV anime series, Ojamajo Doremi, Ojamajo Doremi #, Mo~tto! Ojamajo Doremi, and Ojamajo Doremi Dokka~n!, was aired in Japan from 1999 to 2003, then the 13-episode OVA Ojamajo Doremi Na-i-sho was released from 2004 to 2005. Kodansha has published the sequel light novel series Ojamajo Doremi 16-19, which is set three years after the 4th TV anime, focusing on the protagonist characters who become high school students.
おジャ魔女どれみのスタンプがついに登場♪見習い魔女5人にハナちゃん、マジョリカまで大集合♪イラストは全てキャラクターデザイナーの馬越嘉彦による新作描き下ろし♪ハッピーラッキーみんなにと~どけ♪ https://t.co/2f0PnqE9zR pic.twitter.com/QUCGQ5yDds

— 東映アニメーション商品事業部 公式 (@Toei_anim_goods) January 5, 2017
"Ojamajo Doremi 16" and "19" covers illustrated by Yoshihiko Umakoshi
Source: Toei Animation's merchandise division official Twitter