In contemporanea con il Giappone e sottotitoli in italiano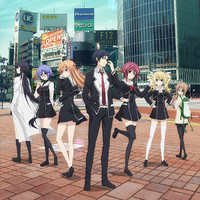 Arrivano altri due simulcast questo inverno su Crunchyroll: Interviews with Monster Girls e Chaos; Child!
Gli episodi di Interviews with Monster Girls saranno disponibili ogni sabato alle 18:30 a partire dal 7 gennaio.
A proposito di Interviews with Monster Girls
Succubi, dullahan, donne delle nevi e vampire... Siamo un po' diverse dagli umani e ci chiamano "semi-umane". Di recente anche solo "semi".
Questa è una commedia scolastica stimolante e provocante con delle "semi" davvero uniche e un insegnante di scuola superiore, Takahashi Tetsuo, che vuole imparare tutto di loro usi e costumi.

©P,K/D
Gli episodi di Chaos; Child saranno disponibili ogni mercoledì alle 18:00 (orario italiano) a partire dall'11 gennaio.
A proposito di Chaos; Child
Shibuya, 2015. In una città che si sta riprendendo da un terremoto che l'ha devastata sei anni prima, il "Terremoto Shibuya", lo studente Takuru Miyashiro dell'Accademia Hekiho investiga su una serie di omicidi nota come "Il Ritorno della Follia della Nuova Generazione" per conto del club di giornalismo della scuola...
©2017 MAGES./KADOKAWA/CHAOS;CHILD Partners