4 more new titles from the Crunchyroll x Funimation partnership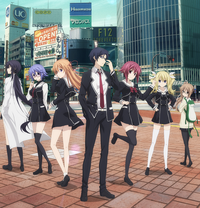 And, we've got more titles today with simuldubs thanks to our friends at Funimation! The following titles will not only be simulcasted on Crunchyroll, but will also have English-dubbed SimulDubs™ created by Funimation and available on FunimationNow just 2-4 weeks (or even minutes!) after each episode airs in Japan! Stay tuned for more news on what else our partnership will bring!

CHAOS;CHILD - worldwide except for Asia
Wednesday 1/11/2017 @ 9:00AM PST
Shibuya, 2015. In a city recovering from the "Shibuya Earthquake" which devastated it six years ago, Takuru Miyashiro, a student at the newly built private high school "Hekiho Academy" investigates a series of serial killings known as "The Return of the New Generation Madness" as part of his work for the school's newspaper club...


* * * * *

Interviews With Monster Girls - Worldwide except for Asia
Saturday 1/7/2017 @ 9:30AM PST
Succubi, dullahans, snow women and vampires... We're a little different from humans and called "demi-humans." Lately, we've been called "demis."

This is a stimulating and heartful school demi-human comedy featuring those very unique "demis" and a high school teacher named Takahashi Tetsuo, who's highly interested in learning more about their daily lives and habits.


* * * * *

Fuuka - North America, Latin America (Central and South America including Caribbean), United Kingdom, Ireland, Australia, New Zealand, South Africa, Nordics and Netherlands
Friday 1/6/17, Time will be announced later

Yuu Haruna has transferred to a school in Tokyo so he can live with his sisters after their parents moved to America. Introverted and unskilled at socializing with others, Yuu's main mode of communication is Twitter. As he's scoping out his new surroundings with his eyes on his smartphone, he crashes into Fuuka Akitsuki, a girl who appeared in front of him out of nowhere. Centered on the awkward and unsocial Yuu Haruna, the mysteriously charming Fuuka Akitsuki, and Yuu's childhood friend Koyuki Hinashi, a brand new love story woven through music is about to begin.

Don't forget, you can read the manga that started it all, right here on Crunchyroll Manga!
* * * * *

ACCA: 13-Territory Inspection Dept. - United States, Canada, United Kingdom, Ireland, Australia, New Zealand, Latin America
Tuesday 1/10/2017 @ 8:00am PST

"ACCA" is a giant unified syndicate residing in a kingdom split into 13 autonomous regions. ACCA was formed back when there was threat of a coup d'etat, and it has continued to protect the peace of civilians for almost one hundred years. Jean Otus, the vice-chairman of the inspections department at ACCA headquarters, is one of the most cunning men in the syndicate's history with the nickname "Jean the Cigarette Peddler." Whimsically puffing his cigarettes, he wanders through the 13 districts, checking to see if there is any foul play afoot. Meanwhile, Jean is monitored by gazes, threatening rumors, and... snack time. Jean's quiet everyday life slowly gets swallowed up into the world's conspiracies!