The first chapter will be screened from February 25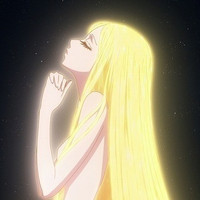 The official website for the upcoming seven-chapter series Space Battleship Yamato 2202: Warriors of Love today posted a main visual featuring the protagonist Susumu Kodai and heroine Yuki Mori and a 30-second trailer for its first chapter. It is also confirmed 30-year-old singer/voice actress Sayaka Kanda (Japanese dub voice of Anna in Frozen) is cats as a legendary goddess, Teresa of Telezart, and her voice can be checked in the new clip below.
Space Battleship Yamato 2202 is the sequel to Space Battleship Yamato 2199 released and aired in Japan from 2012 to 2013. It is also a remake of the 1978 film Farewell to Space Battleship Yamato and its TV anime version Space Battleship Yamato II (with an alternate ending) in 1978-1979. As with the first series, 2202 will be screened in seven chapters at Japanese theaters before its DVD/Blu-ray releases. The first chapter containing its first two episodes will run at theaters from February 25 for a limited time of two weeks.
"Space Battleship Yamato 2202: Warriors of Love" 30-second trailer
First chapter main visual
Visual of Zwordar the Great is also revealed
さらに第一章のメインビジュアルおよびズォーダー(CV:手塚秀彰)の設定を公開!これに伴い公式HPのTOPページもデザイン変更いたしました。ズォーダーの設定はこちら→https://t.co/jcdWpobHLP #yamato2202 #yamato2199 pic.twitter.com/Iq1eq4lToi

— 宇宙戦艦ヤマト2202製作委員会 (@new_yamato_2199) January 6, 2017
Sayaka Kanda
神田沙也加さんがテレサ役に決定!さらにテレサの音声初お披露目&新規カットを追加した本予告(30秒ver)を公開!→https://t.co/JwWiQqjbRk 神田さんインタビュー→https://t.co/laQq0PmceE #yamato2202 #yamato2199 pic.twitter.com/2OoAOArfFJ

— 宇宙戦艦ヤマト2202製作委員会 (@new_yamato_2199) January 6, 2017
Source: "Space Battleship Yamato 2202: Warriors of Love" official website, Twitter
© Yoshinobu Nishizaki/Space Battleship Yamato 2202 Production Committee