Both shows start Sunday 1/8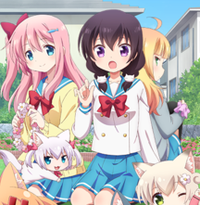 Get ready for adventures in space as ēlDLIVE joins the Crunchyroll lineup starting Sunday, 1/8/2017 at 9:00AM PST for users in the following territories: U.S.A, Canada, United Kingdom, Ireland, Australia, New Zealand, South Africa, Latin America (Central and South America including Caribbean), Norway, Sweden, Finland, Iceland, Netherlands, and Denmark!

Middle school student Chuta Kokonose has heard a voice in his head ever since he can remember. When a strange creature recruits him to the space police force, he learns that the source of the voice is a Monitalien, a symbiotic creature who is living inside his body! Now Chuta must prove his mettle to his cold-hearted coworker, Misuzu, and the rest of the department by protecting the universe from otherworldly criminals.


* * * * *

It's cat-girls galore as Nyanko Days comes to Crunchyroll starting Sunday 1/8/2017 at 9:30AM PST for members worldwide except for Asia!

Konagai Tomoko is a first-year in high school and a shy girl. Tomoko owns three cats. The cheerful and live Munchkin Maa, the smart and responsible Russian Blue Rou, and the gentle crybaby Singapura Shii. Tomoko, whose only friends were her cats, one day becomes friends with Shiratori Azumi, who also loves cats. This is a fluffy and cute comedy about the daily life of Tomoko and her cats, Tomoko and Azumi's friendship, and the interaction between cats.