Youth sci-fi film is scheduled to be screened in 125 countries/regions in the world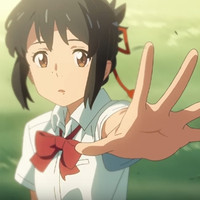 Following the historic success in its home country, Makoto Shinkai's Kimi no Na wa./Your Name. was released on 555 screens (the widest release for a Japanese film) in Korea on January 4, and earned 1,032,712,400 won (100 million yen) on 138,028 admissions in its first weekend, becoming the most successful film of the week.
It was the first time in 13 years for a Japanese film to take the top place in the weekly box office in Korea since Hayao Miyazaki's Howl's Moving Castle in 2004. And it was also the 6th time for the film to become the weekly No.1 in the Asian regions, following Japan, Taiwan, Thailand, Hong Kong, and Mainland China. It is scheduled to be screened in a total of 125 countries/regions in the world.
Makoto Shinkai at a theater in Soul, Korea
『君の名は。』本日1/4から、韓国にて邦画史上最高のスクリーン数で公開です!!新海監督、舞台挨拶中。日本でもこのお正月にたくさんの人にご覧頂いたとのこと、ありがとうございます!本年もよろしくお願いいたします!宣伝H #君の名は。 pic.twitter.com/vIAkoahbMH

— 映画『君の名は。』 (@kiminona_movie) January 4, 2017
ソウルでの本日の舞台挨拶、賑やかなうちに終了しました!『君の名は。』おかげさまで韓国でもデイリー1位でスタートとのこと、夢のようです。観ていただいた韓国の皆さま、本当にありがとうございます! pic.twitter.com/mTVAyuqAFN

— 新海誠 (@shinkaimakoto) 2017年1月4日
Korean poster
---
Distributor Toho has also confirmed that Your Name. has made a gigantic 22,491,589,800 yen from the
17,350,485 ticket sales in Japan in 133 days since its release on August 26, 2016. In the latest weekend
box office of December 31-January 1, it still ranked 3rd. If the momentum keeps up for more weeks, it
may be possible to surpass Disney's Frozen (Anna and The Snow Queen in Japan), the third top-grossing
film of all-time at the Japanese box office that earned 25.48 billion yen in 2014.
All-Time Box Office Top 10 in Japan (Japanese & foreign films combined):
1. "Spirited Away" (2001/30.8 billion yen)
2. "Titanic" (1998/26.2 billion)
3. "Frozen" (2014/25.48 billion)
4. "Your Name." (2016/22.4 billion)
5. "Harry Potter And The Sorcerer's Stone" (2001/20.3 billion)
6. "Howl's Moving Castle" (2004/19.6 billion)
7. "Princess Mononoke" (1997/19.3 billion)
8. "Bayside Shakedown 2" (2003/17.35 billion)
9. "Harry Potter And The Chamber Of Secrets" (2002/17.3 billion)
10. "Avator" (2010/15.6 billion)
Source: Animate Times