Season two starts tomorrow, 1/11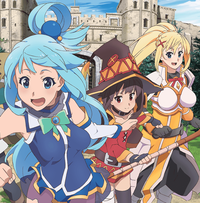 Stand by for another helping of KONOSUBA -God's blessing on this wonderful world! The new season of the anime based on the light novel series written by Natsume Akatsuki and illustrated by Kurone Mishima starts streaming on Crunchyroll tomorrow!
KONOSUBA -God's blessing on this wonderful world! 2 begins streaming tomorrow 1/11 (exact launch time to be announced later) and will be available every Wednesday at 10:35am to members worldwide excluding: Asia, Spain, Portugal, Australia, New Zealand; and German, French, Italian and Dutch Speaking Europe.
About KONOSUBA -God's blessing on this wonderful world! 2
Following a tragic accident, the game-loving shut-in Satou Kazuma was reborn in a parallel world. Though his dream of enjoying a new life as an adventurer in an RPG-inspired world and striving to be a hero didn't come true, he managed to get by in his new world. He was joined by Aqua, the goddess who accompanied him to the parallel world; Megumin, an arch wizard who can only use her magic once a day; and Darkness, a crusader whose attacks always miss. And so, along with his party of girls who have extremely advanced powers but unfortunately can't take full advantage of them, he managed to complete some quests here and there.
Then, one day, after Kazuma's party saved the town of Axel from the mobile fortress Destroyer, a messenger from the capital came to tell Kazuma that he was suspected of the crime of subversion to the state! Where will the ordinary adventurer Kazuma's life in a parallel world lead him tomorrow?!
Cast and Characters
Sena (Hitomi Nabatame), a pecial prosecutor from Capital
Vanir (CV Masakazu Nishida) - Wiz's college and star of the Kono Kamen no Akuma ni Sodan wo! (Consulting with this Masked Devil!?) spin-off
Wiz (CV Yui Horie) - Arch Wizard magic item shop owner. a pacifist with little business sense. Where true identity is...
YunYuna (CV Aki Toyosaki) Megumin's classmate and friend/rival - previously turned up in the OVA
Chris (CV Ayaka Suwa) Thief friend of Darkness who taught Kazuma the Steal skill
Kyōya Mitsurugi (CV Takuya Eguchi). a handsome adventurer with a strong sense of justice and the magic sword Gram
And our leads...
Kazuma Satō (CVJun Fukushima)
Aqua (CV Sora Amamiya )
Megumin(CV Rie Takahashi)
Darkness (CV Ai Kayano)
---
Patrick Macias is editor in chief of Crunchyroll News & Otaku USA magazine. He is also the writer of HYPERSONIC music club, Paranoia Girls, & PARK Harajuku: Crisis Team! He is currently serializing his latest writing project on Wattpad.