Sunao Katabuchi also wins the Best Director Award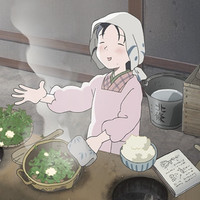 Kinema Junpo, Japan's oldest film magazine that began publication in 1919, today announced the winners of its 90th Kinema Junpo Best 10 Award. The anime film adaptation of Fumiyo Kouno's award-winning manga Kono Sekai no Katasumi ni/In This Corner of the World was named best Japanese film of 2016, and its director Sunao Katabuchi also won the Best Director Award. The winners were chosen by votes from over 100 film critics and journalists.
This is the first time in 28 years for an anime film to be selected as the best film of the year since Hayao Miyazaki's Tonari no Totoro/My Neighbor Totoro in 1988. The award cereminy will be held at Bunkyo Civic Main Hall in Tokyo on February 5.
Kinema Junpo Japanese film Best 10 of 2016:
1. "Kono Sekai no Katasumi ni" (Sunao Katabuchi)
2. "Shin Godzilla" (Shinji Higuchi/Hideaki Anno)
3. "Fuchi ni Tatsu" (Kouji Fukada)
4. "Destruction Babies" (tetsuya Mariko)
5. "Nagai Iiwake" (Miwa Nishikawa)
6. "Rip Van Winkle no Hanayome" (Shunji Iwai)
7. "Yu wo Wakasu hodo no Atsui Ai" (Ryota Nakano)
8. "Creepy: Itsuwari no Rinjin" (Kiyoshi Kurosawa)
9. "Over Fence" (Nobuhiro Yamashita)
10. "Ikari" (Lee Sang-il)
Kinema Junpo Foreign film Best 10 of 2016:
1. "Sully" (Clint Eastwood/USA)
2. "Carol" (Todd Haynes/USA)
3. "Bridge of Spies" (Steven Spielberg/USA)
4. "Trumbo" (Jay Roach/USA)
5. "Mountains May Depart" (Jia Zhang Ke/China)
6. "Son of Saul" (László Nemes/Hungary)
7. "Spotlight" (Tom McCarthy/USA)
8. "11 Minutes" (Jerzy Skolimowski/Poland, Ireland)
9. "Brooklyn" (John Crowley/United Kingdom, Canada, Ireland)
10. "Room" (Lenny Abrahamson/Canada, Ireland, United Kingdom)
---
Best Actress: Rie Miyazawa ("Yu wo Wakasu hodo no Atsui Ai")
Best Actor: Yuya Yagira ("Destruction Babies")
Best Supporting Actress: Hana Sugisaki ("Yu wo Wakasu hodo no Atsui Ai," and others)
Best Supporting Actor: Takehara Pistol ("Nagai Iiwake")
Best Young Actress: Nana Komatsu ("Oboreru Knife," "Destruction Babies," and others)
Best Young Actor: Nijiro Murakami ("Destruction Babies," "Natsumi no Hotaru")
Best Director: Sunao Katabuchi ("Kono Sekai no Katasumi ni")
Best Screenplay: Hideaki Anno ("Shin Godzilla")
Foreign Film Director: Clint Eastwood ("Sully")
---
"Kono Sekai no Katasumi ni" trailer
Director Katabuchi and Producer Taro Maki
動員75万人・興収10億円突破、ありがとうございます。奇跡のその先へ、これからも走り続けます。 晴れ着のすずさん、のんさんパネルを手に、新たな目標を掲げる片渕監督( @katabuchi_sunao ) と真木P( @makitaro1997 )です。 #この世界の片隅に pic.twitter.com/NBacU3FXx2

— 『この世界の片隅に』全国拡大上映中! (@konosekai_movie) January 6, 2017
Source: Kinema Junpo