In simulcast e con sottotitoli in italiano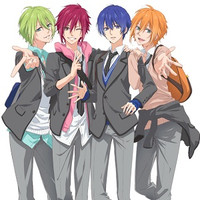 Il secondo annuncio di oggi riguarda l'arrivo di MARGINAL#4 the Animation.
Gli episodi saranno disponibili ogni giovedì alle 17:30 (orario italiano) a partire dal 12 gennaio 2017.
A proposito di MARGINAL#4 the Animation
Il 13 febbraio, mentre i fiocchi di neve danzano nell'aria, alla Pythagoras Production nasce un nuovo gruppo di idol che porterà i loro baci ai confini della galassia: i Marginal #4. Atom Kirihara, Rui Aiba, L Nomura e R Nomura concentrano i loro sforzi nella loro carriera per la gioia delle fan! Continuano a maturare come idol assieme al gruppo più anziano che domina la scena dell'intrattenimento, Lagrange Point, e quello più giovane che prepara il proprio debutto, Unicorn Jr. Quando scendono dal palco, però, sono normali studenti delle superiori con una caotica vita scolastica!
Questa è la storia dei Marginal #4, uno slice-of-life scolastico su un gruppo di idol che brilla più delle stelle.
I membri dei Marginal #4, con le loro personalità uniche, tessono sogni e legami. Quando questi due fattori si uniscono, il risultato è un'esplosione cosmica!
©Rejet/MARGINAL#4 FC