Starts tomorrow 1/12 at 8:30am PST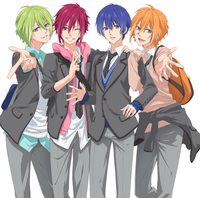 The parade of new anime announcements marches on today at Crunchyroll with word that MARGINAL #4 the Animation, based on the otome game and male idol franchise from Rejet and Idea Factory will begin streaming tomorrow. Read on for full details!
MARGINAL #4 the Animation starts tomorrow 1/12 at 8:30am PST and will be available worldwide except Asia.
About MARGINAL #4 the Animation
On February 13, as snow flurries dance in the air, a new idol unit is born at Pythagoras Production. They are the idols who will deliver their kiss to the ends of the galaxy: "Marginal #4." Its members, Atom Kirihara, Rui Aiba, L Nomura, and R Nomura, put all their effort into their entertainment career for the sake of the fan supporting them! They continue to mature as idols along with the senior unit pulling the entertainment industry forward, Lagrange Point, and the younger unit preparing to make their debut, Unicorn Jr. But when they step off the stage, they're ordinary high school boys with some chaotic student lives!
This is the tale of Margninal #4, a school slice-of-life about idols that shine brighter than the stars.
The highly unique members of Marginal #4 weave dreams and bonds. When these two come together, the result is a miraculous big bang!
Staff
Director: Kentaro Suzuki (Little Busters! episode director)
Series configuration: Masahiro Yokotani (Re:Zero, Maria Holic)
Character Design: Yoko Ito (Amanchu!)
Theme song production: Music by MIKOTO Word by Daisuke Iwasaki
Animation Production: J.C.STAFF
Cast
Atom Kirihara: Toshiki Masuda
Rui Aiwa: Naozumi Takahashi
Eru Nomura: KENN
Aaru Nomura: Yuuto Suzuki
Shy Makishima: Toshiyuki Toyonaga
Kira Himuro: Genki Okawa
Tsubasa Shindo: Shouta Aoi
Alto Takimaru: Chiharu Sawashiro
Teruma Nakama: Toshiyuki Someya
---
Patrick Macias is the editor in chief of Crunchyroll News & Otaku USA magazine.
He is currently serializing his latest writing project, MONDO TOKYO, on Wattpad.