Starts today at 9:30am PST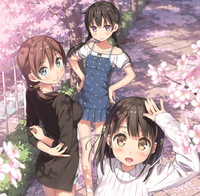 More anime new announcements begin at Crunchyroll today, starting with the addition of the original first-person narrative anime OneRoom. Read on for more details!
OneRoom begins streaming today at 9:30am PST, with future episodes rolling out every Wednesday at 8am PST, and will be available to members worldwide except Asia.
About OneRoom
You are the protagonist. A new project in virtual anime from SMIRAL Animation that also brought you the "Anitore" series and "Makuranodanshi." This time, the project is about 3 stories that develop in your (one) room.
Kantoku, best known as the illustrator for The "Hentai" Prince and the Stony Cat. light novel series, provides the original character images, and Yasuhiro Okuda (Magical girl lyrical Nanoha series character designer) draws anime character designs based on them.
CHARACTERS
Yui Hanasaka (1st to 4th episodes):
Theme song: "Harumachi Clover"
A 17-year-old high school girl in the third grade. She had lived in Hokkaido, but recently moved to Tokyo
to concentrate on her study for the coming university entrance exam, living with her older sister who is
trying find a job.
Natsuki Momohara (5th to 8th episodes):
Theme song: "Natsuzora Yell"
The protagonist's younger sister, 14-year-old second grade junior high school student. In the name of
"Life Guidance" for his brother who works in Tokyo, she is staying at his room during the summer vacation.
Moka Aoshima (9th to 12th episodes):
Theme song: "Kibou Refrain"
The protagonist's childfood friend who is a 21-year-old singer-songwriter. She once made her debut, but failed
to continue her proffessinal career. Still chasing her dream, she now works as a part-time worker in Tokyo.
---
Patrick Macias is editor in chief of Crunchyroll News & Otaku USA magazine.
He is currently serializing his latest writing project, MONDO TOKYO, on Wattpad.