Starts tomorrow, 1/12 at 9:00am PST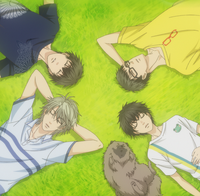 More anime new announcements leap out at 'ya from Crunchyroll today, continuing with the addition of SUPER LOVERS 2, based on the manga by Miyuki Abe and featuring animation by studio DEEN, to the winter streaming lineup.
SUPER LOVERS 2 starts tomorrow, 1/12 at 9:00am PST and will be available to members worldwide except Asia.
About SUPER LOVERS 2
After leaving Canada to move in with Haru, Rei was finally getting used to living as the youngest of four brothers, and Haru's new café was beginning to thrive... when their mother, Haruko, showed up and said she was taking Rei with her to Switzerland! The shock of her sudden declaration just when Haru and Rei had begun to grow closer led to increasing discord between them. Is more trouble on the horizon?!
---
Patrick Macias is editor in chief of Crunchyroll News & Otaku USA magazine.
He is currently serializing his latest writing project, MONDO TOKYO, on Wattpad.