Yuichi Fukuda-directed film hits Japanese theaters in July 2017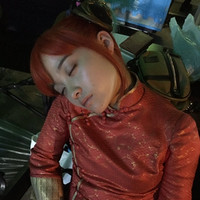 Four months after the filming was wrapped up, Yuichi Fukuda, the director of the upcoming live-action film adaptation of Hideaki Sorachi's action comedy manga Gintama, has posted three photos from the set on his official Twitter, showing Kanna Hashimoto (Kagura) and the director himself who were taking a nap on the chair. The film is set to open in Japan in July 2017.
"In last summer, during the filming of Gintama, it was true that I often took a nap in my waiting time for action scenes and such. But when I was organizing photos yesterday, I found Masaki Suda taking a photo with me in sleep. Hey, hey! Why were you posing a peace sign with the sleeping director! By way of revenge, I've just posted a photo of Kagura taking a nap. However! I was also sleeping. What's the heck?"
去年の夏、銀魂の撮影中はさ!アクションの待ち時間とか確かにちょいちょい居眠りとかしてたけどさあ!昨日ふと写真の整理してたらさ!寝てる俺と記念撮影してる菅田将暉を発見!こらこら!寝てる監督とピースじゃねえよ!腹いせに居眠り中の神楽をアップ!ただ!なぜか俺も寝ているというなんやねん pic.twitter.com/vtlrsHho8Z

— 福田 雄一 (@fukuda_u1) January 11, 2017
---
Teaser
Promotional poster with a tagline "I am the stupidest samurai in the space, You bastard!!"
---
Character visuals:
Shun Oguri as Gintoki Sakata
坂田銀時。
演じる小栗さんは2か月間にもわたるアクショントレーニングで銀時らしい逞しい身体を鍛え上げた他、地毛も銀髪に染め上げ、さらにウィッグを使い銀時の特徴的な天パの銀髪を完全再現。トレードマークともいえる"洞爺湖"土産の木刀を手に、強い眼差しを向けています!#映画銀魂 pic.twitter.com/WM5X6wie5t

— 映画『銀魂』公式 (@gintama_film) December 5, 2016
Masaki Suda as Shinpachi Shimura
志村新八。
演じる菅田将暉さんは先日2016年ベストドレッサー賞を受賞するなどピカイチのファッションセンスを誇っていますが、これまでのイメージを覆す、<超地味なメガネキャラ>新八に!#映画銀魂 pic.twitter.com/2Q1NEJ2NPo

— 映画『銀魂』公式 (@gintama_film) December 5, 2016
Kanna Hashimoto as Kagura
神楽。
橋本環奈さんは、旺盛な食欲は他の追随を許さず、可愛らしい容姿とは裏腹に毒舌でだらしのない性格の神楽に真正面から向き合い、役作りの過程で地毛をオレンジ色に染め上げました。さらに、青い瞳、そしてチャイナ服という容姿に!#映画銀魂 pic.twitter.com/VVsdW9EY0v

— 映画『銀魂』公式 (@gintama_film) December 5, 2016
Source: Yuichi Fukuda Twitter via: Netlabo
© Hideaki Sorachi/Shueisha
© 2017 "Gintama" Production Committee