Si parte si questa sera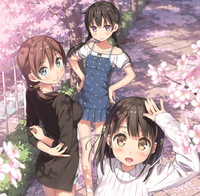 Anche oggi nuovi annunci relativi ai simulcast invernali. Arriva OneRoom!
Il primo episodio di OneRoom sarà disponibile a partire da oggi 11 gennaio alle 18:30 (orario italiano). I successivi saranno disponibili ogni mercoledì alle 17:00 (sempre orario italiano).

A proposito di OneRoom
Tu sei il protagonista. Un nuovo progetto di anime virtuale da SMIRAL Animation, gli stessi delle serie "Anitore" e "Makuranodanshi." Questa volta, si tratta di tre storie che si svolgono tutte in una sola stanza (la tua!)
Kantoku, noto illustratore della serie di romanzi The "Hentai" Prince and the Stony Cat., ha creato i personaggi e Yasuhiro Okuda (character designer della serie Magical girl lyrical Nanoha) li ha ridisegnati per l'animazione.
Personaggi
Yui Hanasaka (episodi 1-4):
Canzone: "Harumachi Clover"
Una diciassettenne al terzo anno di superiori. Ha vissuto in Hokkaido, ma da poco si è trasferita a Tokyo per studiare prima degli esami di ammissione all'Università. Vive grazie a sua sorella che è in cerca di lavoro.
Natsuki Momohara (episodi 5-8):
Canzone: "Natsuzora Yell"
Sorella minore del protagonista, 14 anni e al secondo anno delle superiori. Durante le vacanze estive abita nella stanza del fratello che lavora a Tokyo.
Moka Aoshima (episodi 9-12):
Canzone: "Kibou Refrain"
Amica d'infanzia del protagonista, cantautrice 21enne. Ha debuttato ufficialmente, ma non ha saputo portare avanti la sua carriera professionale. Insegue ancora il suo sogno, ma lavora part-time a Tokyo.