Directed by Hiroshi Miyamoto (PreCure and Refi's Wonder Night! )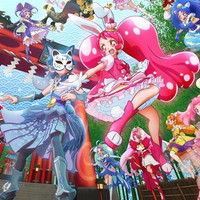 The official website for the PreCure anime franchise's next feature film PreCure Dream Stars! today updated with a poster visual and released a 90-second trailer introducing its ED theme song "Kimi wo Yobu Basho" (The Place Where I Call You) sung by 40-year-old actress Yoshino Kimura who also voices a fox named Shizuku. And it is confirmed that the film will have the four PreCure girls from the 12th TV series Go! Princess PreCure (2015-2016), the three from the 13th Maho Girls PreCure! (2016-2017), and the five from the upcoming 14th series Kira Kira PreCure A La Mode that will premiere in Japan on February 5, 2017.
Every March since 2009, the franchise has released an "All Stars" film featuring all of the successive PreCure girls. But with the 14th Kira Kira, the franchise will finally have 51 girls in total and it is definitely impossible to feature all of them in a 70-minute film, so it is a very understandable transition. PreCure Dream Stars will open in Japan on March 18.
"PreCure Dream Stars!" trailer
PreCure Dream Stars! is directed by Hiroshi Miyamoto, who worked on the 15-minute fully CG animated
short "PreCure and Refi's Wonder Night!" that was screened as one program of the three-part film Go!
Princess Precure the Movie: Go! Go!! Splendid Triple Feature!!! released in October 2015. As the trailer
shows, it is drawn in both the traditional cell look 2D and 3DCG.
The story is explained as below:
Ichika Usami, the protagonist of Kira Kira PreCure A La Mode who transforms into Cure Whip, encounters
a girl named Sakura who belongs to a mysterious world that is beautiful and shining. But a group of bad
guys including Karasu Tengu who wants to get beautiful things in the whole world appear there, and have
taken Sakura's precious fox friend Shizuku. With the help of the girls from Go! Princess PreCure and Maho
Girls PreCure!, the team of Kira Kira PreCure A La Mode decide to rescue Shizuku from them.
Poster visual
Main visual
Teaser
Teaser visual
Source: "PreCure Dream Stars!" official website
© Movie PreCure Dream Stars! production Committee