Spin-off film "KING OF PRISM by PrettyRhythm" will be also screened on the final day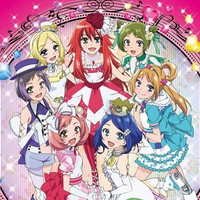 The official website for the Pretty Rhythm anime series based on Takara Tommy and syn Sophia's trading card arcade game of the same name announced yesterday that all night screenings of its third TV anime series Pretty Rhythm: Rainbow Live will be held at the Shinjuku Wald 9 theater in Tokyo every Saturdays from February 11 to March 4. The total screening time of the four days is 1,180 minutes. The idol show-themed series was aired for 51 episodes on TV Tokyo and its affiliates from April 2013 to March 2014.
Schedule:
February 11: 23:30 - 29:00
February 18: 23:30 - 29:00
February 25: 23:30 - 29:00
March 4: 23:00 - 29:00
Although detailed schedule has yet to be fixed, about 13 episodes are expected to be screened every
night between 23:30 and 29:00. The price for one screening is 3,000 yen (Entrance is restricted to those
above 18). Wearing cosplay costumes and bringing penlights are OK, but cheering the characters on the
screen with voices is prohibited, except for the spin-off film KING OF PRISM by PrettyRhythm on the
final day.
Masakazu Hishida, the director of the three Pretty Rhythm TV anime series, Aurora Dream (2011-2012),
Dear My Future (2012-2013), and Rainbow Live, is scheduled to visit the theater before the first day
screening. Advance tickets will go on sale at the theater from February 3.
TVアニメ「プリティーリズム・レインボーライブ」の全話上映会の開催が決定しました!https://t.co/Mvhkkux1SH #prettyrhythm pic.twitter.com/scWSSmVD2r

— プリティーリズムおんがく&えいぞう☆公式 (@PRR_music) January 19, 2017
Blu-ray box arts
Source: "Pretty Rhythm" anime official website
© T-ARTS/syn Sophia/TV Tokyo/PRR Production Committee