"In This Corner of The World"'s Katabuchi receives the Best Director Award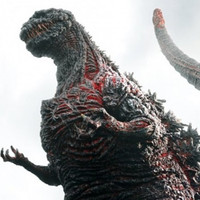 The 59th Blue Ribbon Awards announced its winners today on January 26. The award was established by The Association of Tokyo Film Journalists in 1950, and has been sponsored by the seven major sports newspapers in Japan (Sports Hochi, Daily Sports, Sankei Sports, Tokyo Chunichi Sports, Tokyo Sports, Sports Nippon, Nikkan Sports).
Following The 71st Mainichi Film Awards announced last week, Toho's 29th Japanese Godzilla film, Shin Godzilla was again chosen as the best Japanese film of 2016. The film directed by Shinji Higuchi (co-directed with Hideaki Anno as the general director) has earned an impressive 8.25 billion yen, becoming the second top-grossing film of the year, only behind Makoto Shinkai's mega hit Kimi no Na wa./Your Name. The anime film received the Special Award because of its massive contribution to the Japanese film market.
The Best Director Award went to Sunao Katabuchi, who worked on the anime film adaptation of Fumiyo
Kouno's award-winning manga Kono Sekai no Katasumi ni/In This Corner of the World. He is the first
animation director who receives the award.
---
The 59th Blue Ribbon Awards winners:
Best Film: "Shin Godzilla" (Shinji Higuchi/Hideaki Anno)
Best Director: Sunao Katabuchi (Kono Sekai no Katasumi ni)
Best Actor: Kenichi Matsuyama (Satoshi no Seishun)
Best Actress: Shinobu Otake (Gosaigyo no Onna)
Best Supporting Actor: Lily Franky (SCOOP!, Satoshi no Seishun)
Best Supporting Actress: Hana Sugisaki (Yu wo Wakasu Hodo no Atsu Ai)
Best Newcomer: Izumi Okamura (Gymnopedies ni Oboreru)
Special Award: "Kimi no Na wa." (Makoto Shinkai)
Best Foreign Film Award: "Rogue One: A Star Wars Story" (Gareth Edwards)
---
Japanese Film Top 10 of 2016
"Ikari"
"Kimi ni Na wa."
"Gosigyo no Onna"
"Satoshi no Seishun"
"Shin Godzilla"
"SCOOP!"
"Nagai Iiwake"
"Yu wo Wakasu hodo no Atsui Ai"
"Rip Van Winkle no Hanayome"
"64"
Foreign Film Top 11 of 2016
"The Martian"
"Carol"
"Suicide Squad"
"Zootpia"
"Spotlight"
"Trumbo"
"Sully"
"Bridge of Spies"
"The Danish Girl"
"The Revenant"
"Rogue One: A Star Wars Story"
---
Source: Cinema Today