23,760-yen limited platinum pen will be shipped in May 2017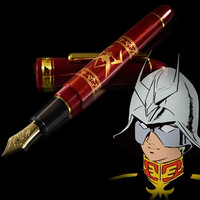 Via its SunStar Stationery section, Bandai's official online store Premium Bandai today started accepting pre-orders for a special fountain pen inspired by Char Aznable, the main antagonist in the Mobile Suit Gundam anime franchise, for a May 2017 release. It is a collaboration product with Platinum Pen, a Japanese stationery company with 100 years of history.
The red-color (the character is called "Red Comet" in the first anime series because of his red-painted mobile suits) 23,760 yen (about 209 US dollars) pen has his personal emblem on its body and his signature on the back of its cap. And the emblem of the Zeon forces is engraved on the nib. The set also includes a red custom box case decorated with his emblem for the pen and its ink cartridges.
Source: Bandai Net Strategy Section press release
(C) Sotsu/Sunrise