First ever dub for Gintama TV series. Episodes 266-278 now available with more added weekly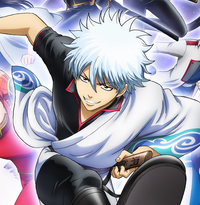 Hark! Gintoki and his merry band of wacky weirdoes are getting the English dub treatment as Season Three of Gintama begins streaming today on Crunchyroll, marking the first time the Gintama TV series has been available dubbed.
Episodes 266-278 will be available for members worldwide ex Asia at 2:30pm Pacific Time today (which means they are live now), and additional episodes will be added every Wednesday in February.
About Gintama Season 3
In a world where aliens have invaded Edo Period Japan, skyscrapers, trains and motor bikes have replaced the simple life of Earth inhabitants. One man however, still carries the soul of a samurai, Gintoki Sakata, otherwise known as Yorozuya Gin-san. As reckless as he is, Gintoki carries his own resolve and is ready to take on any challenge with his fellow companions.
And now... presenting the English dub cast!
Gintoki Sakata: Michael Daingerfield
Shinpachi Shimura: Cole Howard
Kagura: Jocelyne Loewen
Tae Shimura: Janyse Jaud
Kotaro Katsura: Matt Ellis
Toshiro Hijikata: Michael Adamthwaite
Sogo Okita: Vincent Tong
Isao Kondo: Jason Simpson
Sagaru Yamazaki: Adrian Petriw
Tsukuyo: Marlie Collins
Tatsuma Sakamoto: Andrew Francis
Tama: Chantal Strand
Yagyu Kyubei: Advah Soudak
---
Patrick Macias is editor in chief of Crunchyroll News & Otaku USA magazine.
He is currently serializing his latest writing project, MONDO TOKYO, on Wattpad.