Eight character illustrations wearing NBA uniforms will be posted daily from today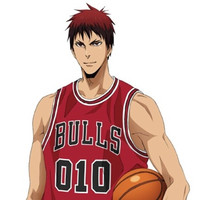 The official website for the upcoming film Kuroko's Basketball: Last Game today announced collaboration with NBA (National Basketball Association), an eminent men's professional basketball league in North America, mainly focusing on releasing original goods.
The Kuroko' Basketball manga's original author Tadatoshi Fujimaki, who also serves as the supervisor for the film, picked eight teams for the collaboration project from all 30 teams in the league. Starting from today, character illustrations wearing the eight NBA uniforms newly drawn by the anime character designer Yoko Kikuchi will be posted daily on the web. The first character is Taiga Kagami wearing the uniform of Chicago Bulls below.
The collaboration items are scheduled to be sold at the Seibu Ikebukuro Flagship store in Tokyo and other selected stores. Details will be followed soon.
【NBA×劇場版黒子のバスケ】コラボビジュアル第1弾は火神!コラボするチームはシカゴ・ブルズです!これはまさに納得の組み合わせではないでしょうか。かつてマイケル・ジョーダンが在籍していたブルズの赤いユニフォームがとてもよく似合っていますね! #kurobas pic.twitter.com/ZHJDshAdds

— アニメ黒子のバスケ (@kurobasanime) February 1, 2017
北米男子プロバスケットボールリーグ・NBAと「劇場版黒バス」のコラボレーション決定!NBA全30チームの中から選ばれた8チームのユニフォームを来た8キャラクターの描き下ろしイラストを本日より1人ずつ発表します! https://t.co/opCRPgwfq0 #kurobas pic.twitter.com/ptkbDjfLZl

— アニメ黒子のバスケ (@kurobasanime) February 1, 2017
---
The all-new film based on the eight-episode sequel series Kuroko's Basketball Extra Game is set to
be released in Japan on March 18, 2017.
Full trailer
Teaser
Key visual
【劇場版】遂にJabberwockの新キャストを解禁!ナッシュ・ゴールド・Jr.は緑川光さん、ジェイソン・シルバーは稲田徹さん!
主題歌はGRANRODEO「Glorious days」に決定!総集編第3弾上映後に流れる特報ではいち早くINSTをお聴き頂けます! #kurobas pic.twitter.com/xjC5zs4WUM

— アニメ黒子のバスケ (@kurobasanime) December 3, 2016
Source: "Kuroko's Basketball: Last Game" official website, Twitter
(C) Tadatoshi Fujimaki/Shueisha
(C) Tadatoshi Fujimaki/Shueisha, Kuroko's Basketball Production Committee