O novo vídeo promocional foi planejado para ir ao ar durante a final da NFL nos Estados Unidos, porém já está disponível na Web e chega trazendo mais uma dose de "hype" para essa adaptação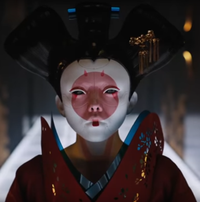 Foi revelado recentemente um novo trailer para a adaptação cinematográfica hollywoodiana de Ghost in the Shell, baseada no icônico mangá original de Masamure Shirow.
O novo trailer revelou várias cenas inéditas da adaptação, mostrando em mais detalhes e sob novas facetas a caracterização de Scarlett Johansson como a agente Major, além de explorar um pouco mais o universo retratado no filme.
A produção conta com a direção de Rupert Sanders (Branca de Neve e o Caçador) e tem estreia prevista para 30 de março de 2017. No Brasil o filme será chamado de: "Vigilante do Amanhã: Ghost in the Shell".
Uma versão mais curta e dublada do novo trailer também foi liberada no Youtube oficial da Paramont Brasil, confira:
Pôster Promocional
Sinopse:

Baseado na internacionalmente aclamada obra de ficção científica, "Vigilante do Amanhã - Ghost in the Shell" conta a história da Major (Scarlett Johansson), uma agente especial, uma ciborgue única, que lidera a força-tarefa de elite Seção 9. Dedicada a deter os mais perigosos criminosos e extremistas, a Seção 9 enfrenta um inimigo cujo único objetivo é destruir os avanços da HankaRobotic na tecnologia cibernética.
Fazem parte do elenco, além de Scarlett Johansson (Major): Takeshi Kitano, Juliette Binoche (Dra. Ouelet), Michael Pitt (Kuze), Pilou Asbæk (Batou), Kaori Momoi, Chin Han, Danusia Samal, Lasarus Rtuere, Yutaka Izumihara e Tuwanda Manyimo.
---
Fábio[portuga] é redator de notícias para a Crunchyroll.pt e está ansioso para assistir esse filme desde que anunciaram Scarlett Johansson como protagonista, ele adora sua atuação nos filmes da Marvel e também no interessante Lucy. Visite o seu perfil e siga-o no Twitter: @portugassis. Clique aqui para ler outros posts do autor.