The console version of the fighter will get additional features.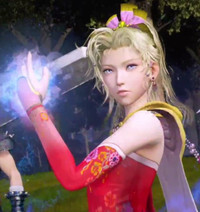 Dissidia Final Fantasy is still getting a console release, and according to an interview with the latest issue of Weekly Famitsu and producer Ichirou Hazama and director Takeo Kujiraoka, it's likely getting a story mode as well.
"Many users are expecting a story for the console version, which we are of course preparing. However, the focus of the game is battles and that has not changed. We will further enhance other elements as well, which will take a little bit more time."
The console version of the arcade game will be receiving its own story mode, and a possibility that the game could be moving toward an eSports-esque future as well.
"If we can export it to the world as a high-proficiency, competitive fighting tool, while also an enjoyable team battle Final Fantasy, it might even rise up as an e-Sports event," Kujiraoka said. "If that happens, then next will be a global tournament, right? I can't say too much, but I want to use these sorts of ambitions to make Dissidia Final Fantasy an even better game."
[via Gematsu]
-------
Fueled by horror, rainbow-sugar-pixel-rushes, and video games, Brittany is a freelancer who thrives on surrealism and ultraviolence. Follow her on Twitter @MolotovCupcake and check out her portfolio for more.