A new game mode and new sets of monsters will be coming to the game.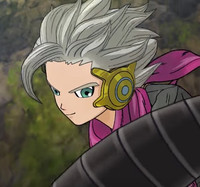 Looking forward to trying out the new Dragon Quest Monsters: Joker 3 Professional title for 3DS? Square Enix has you covered, having just released a whole new swath of details and information about a new element called Speed Road and three new Demon King class monsters.
Speed Road is a part of the World of Incarnus, where you've got to utilize your best skills and techniques as you ride on your favorite monster through a dedicated obstacle course toward an end goal. You can win several rewards there, and several monsters will attempt to keep you from reaching the end. You need to gather crystals on your way through the race, and they'll net you more points. The more crystals you collect the better off you'll be at the end of the race.
There are also Demon King monsters like Demon King Omudo Rex, True Demon King Zaram, and several others waiting for you to conquer them. Dragon Quest Monsters: Joker 3 Professional is releasing on February 9 for 3DS in Japan.
[via Gematsu]
-------
Fueled by horror, rainbow-sugar-pixel-rushes, and video games, Brittany is a freelancer who thrives on surrealism and ultraviolence. Follow her on Twitter @MolotovCupcake and check out her portfolio for more.