"MUSIC CLIP COLLECTION" Blu-ray will be released on February 15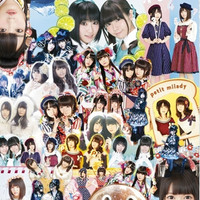 To promote the upcoming release of the "MUSIC CLIP COLLECTION" Blu-ray on February 15, two-member voice actress unit petit milady, consisting of 24-year-old Aoi Yuuki (Madoka Kaname in Puella Magi Madoka Magica) and 27-year-old Ayana Taketatsu (Kirino Kousaka in Oreimo), has streamed all of their 11 music video in full size on their record company ZERO-A's official YouTube channel for a limited time between February 6 and 19. They have accepting votes for the fans' favorite videos via YouTube's "I like this," and Twitter's retweet function and "like." The most popular video will be decided based on the total of these numbers.
The unit was formed in March 2013, and has released six CD singles and three original albums. Their 3rd solo live concert "Chiisana Shukujo To Mori No Yukai Nana Kamatachi ~ Mutchu ☆ Mori He Kaeru ~" is scheduled to be held at Zepp Tokyo on February 11. As of today, tickets are still available at major ticket agencies.
1st single "100% Cider Girl" full MV (May 15, 2013 release/double A-side single with "Kagami no Dualism")
6th single "Seishun wa Tabemono Desu" full MV (MAy 4, 2016 release)
"MUSIC CLIP COLLECTION" Blu-ray jacket
Message video for their third concert
Source: petit milady official website
© ZERO-A