Early this week, Funimation is expanding their SimulDub line-up with two more series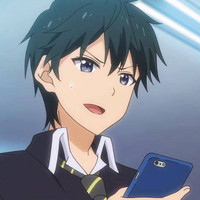 Early this week, Funimation is expanding their winter 2017 SimulDub line-up with two more series. Monday's debut of Masamune-kun's Revenge will be followed by Tuesday's Chain Chronicle – The Light of Haecceitas –. In preparation, they have announced their English dub casts.
Chain Chronicle – The Light of Haecceitas –
Premieres Tuesday Feb 7 at 9:00pm ET
This is the story of the Chain Chronicle, a book that describes everything that happens in the world.
The citizens of the remote continent of Yggd once thought that there was nothing beyond their continent. The continent was divided into several regions, each with its own king. Though there were small skirmishes amongst them, a lord, chosen by the kings in conference, always maintained balance — until the evil Black Army arrived.
"All will be engulfed in black."
The Volunteer Army, led by Yuri, was no match for the Black Army. During the fighting, the Lord of Black captures half of the Chain Chronicle, as well as the capital. During their retreat, Yuri and the Volunteer Army encounter a boy fighting the Black Army all by himself.
So begins the story of the Chain Chronicle, of the Volunteer Army's and Black Army's battles for the fate of the world, and of friendship.
| | |
| --- | --- |
| CHARACTER | CAST |
| Aram | Orion Pitts |
| Yuri | Ricco Fajardo |
| Juliana | Felecia Angelle |
| Kain | Clifford Chapin |
| Black King | David Wald |
| Burckhardt | J Michael Tatum |
| Eirenus | Monica Rial |
| Phoena | Dawn M. Bennett |
| Mishidia | Caitlin Glass |
| Narrator | R. Bruce Elliot |
| Aries | Alejandro Saab |
| Rafaga | Tyson Rinehart |
| Pirika | Tia Ballard |
| Clauss | Justin Briner |
| Veinta | Alexis Tipton |
| Einslot | Ian Sinclair |
| Lolo | Ryan Reynolds |
| Marina | Apphia Yu |
| Shuza | Cris George |
| Velner | Daman Mills |
| Wayne | Josh Grelle |
| Yoshitsugu | Aaron Roberts |
| | |
| CREW | |
| ADR Director | Tia Ballard |
| ADR Engineer | Nicholas Hernandez |
Masamune-kun's Revenge
Premieres 2/6/2017 at 9:30pm ET
As a child, Masamune Makabe was mercilessly teased about his weight and cruelly nicknamed "Pig's Foot" by a young girl named Aki Adagaki. Years later, Masamune continues to hold resentment and decides to seek revenge against his tormenter. Now, handsome and in top shape, he returns to exact vengeance on Aki! But as he gets closer to her, he finds his heart desires something other than revenge.
CHARACTER

CAST

Masamune Makabe
Josh Grelle
Aki Adagaki
Morgan Garrett
Yoshino Koiwai
Monica Rial
Kojuurou Shuri
Justin Briner
Chinatsu Hayase
Skyler Davenport
Kinue Hayase
Natalie Hoover
Tae Futaba
Caitlin Glass
Episode 1
Mari Mizuno
Jeannie Tirado
Kaneko Sonoka
Tia Ballard
Kikune Kiba
Dawn M. Bennett
Akio Tanabe
Daman Mills
Shigeo Yamada
Aaron Dismuke

CREW

ADR Director
Alexis Tipton
ADR Engineer
Colby Cockburn
Writer
Emily Neves
Mixing Engineer
Andrew Tipps
------
Scott Green is editor and reporter for anime and manga at geek entertainment site Ain't It Cool News. Follow him on Twitter at @aicnanime.