Now airing on Amazon Prime Japan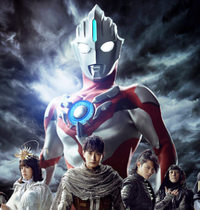 The ongoing series Ultraman Orb The Origin, an exclusive on Amazon Prime Video in Japan which serves as the backstory for the ongoing Ultraman Orb series (which you can watch now on Crunchyroll), gets a spiffy new trailer for the upcoming Earth Arc as giant superheroes (including Ultraman Gaia and Ultraman Agul), major monsters, and cool mecha clash on screen! Enjoy below!
Here's the plot according to the official press release:
On the far off planet of O-50, two young men, Gai and Juggler, find a dazzling light that has searched for someone possessing excellent qualities to become a warrior of light. Chosen by the light, Gai wields the holy sword, the Orb Caliber, and becomes Ultraman Orb. Using this newfound strength, Gai and Juggler work to defend the universe from the threat of the Galactic Bezelb, controlled by the mysterious Dr. Saiki. Facing this threat, the young warrior of light now asks himself what the true meaning of peace is as his first mission begins.
---
Patrick Macias is editor in chief of Crunchyroll News & Otaku USA magazine.
He is currently serializing his latest writing project, MONDO TOKYO, on Wattpad.