Film's main voice cast members plays different characters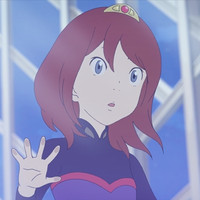 It is confirmed today that a spin-off short titled Ancien to Mahou no Tablet ~Mouhitotsu no Nemurihime~ (Ancien and the Magic Tablet ~Another Napping Princess~) will be streamed on Hulu in early March prior to the theatrical release of the main film directed by internationally acclaimed director Kenji Kamiyama (Ghost in the Shell: Stand Alone Complex) in Japan on March 18. Kamiyama also directs the short based on a screenplay by Harumi Doki (Cyborg 009 Call Of Justice).
The spin-off tells the adventure of another protagonist Ancien who appears in the dreams of the main story's protagonist Kokone Morikawa. Kokone's VA Mitsuki Takahata also voices Ancien, and her farther Momotaro's VA Yosuke Eguchi plays Ancien's partner Peach. Kokone was told a fairy tale by her father in her childhood, and the story is still appearing occasionally in the dreams of her who has now grown up to a high school girl. What are the secret and her father's wish hidden in the fairy tail?
#ひるね姫 にもう一つの物語が!
3月上旬より @hulu_japan で、オリジナル作品『エンシェンと魔法のタブレット 〜もうひとつのひるね姫〜』が配信予定  #高畑充希 さん、#江口洋介 さんらが一人二役に挑戦し、ココネの夢の中の物語が描かれます。ぜひお楽しみに! pic.twitter.com/w38nJ5lvdK

— 映画『ひるね姫』公式 (@hirune_hime) February 8, 2017
Scenes from the short
---
"Hirunehime" full trailer
The story description:
In the summer of 2020, 3 days before the start of the Tokyo Olympic games, Kokone Morikawa lives with
her father alone in Kurashiki, Okayama. She is an ordinary high school girl and the only thing she is good
at is "taking naps". Recently, she has had a recurring dream many times. However due to the pressure of
the future, friends and family, she is finding less time to nap. With traveling between the dreams and reality,
the secret of her family starts to be revealed.
Main staff:
Director/Screenplay Writer: Kenji Kamiyama
Original Character Designer: Satoko Morikawa (The Cat Returns)
"Hearts" Designer: Shigeto Koyama (Big Hero 6)
Animation Director: Atsuko Sasaki (Gargantia on the Verdurous Planet, Eden of The East)
Anime Production: Signal-MD (Tantei Team KZ Jiken Note)
Distributor: Warner Brothers Japan
Flyer visuals
Source: HJ Holdings press release
©2017 Hirunehime Production Committee