Now you can win her full-graphic T-shirts by retweeting the specified tweet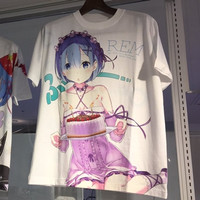 As reported, the special events titled "Re:Life of Rem's Birthday from Zero" to celebrate the birthday for Rem, one of the main heroines in Tappei Nagatsuki's popular light novel series Re:ZERO -Starting Life in Another World-, have been held at the Gamers store in Akihabara and on the 8th floor of the Shibuya Marui department store in Tokyo till the end of this month. The official Twitter of the Re:ZERO franchise reported today that the Shibuya store had attracted over 5,000 visitors by Sunday in five days.
『Re:ゼロから始めるレムの誕生日生活 2017 in 渋谷マルイ』の来場者数が2/5(日)に5000人を突破したそうです! みなさまありがとうございます! 5000人が渋谷でレムをお祝いしてくれたということですね。>RT pic.twitter.com/YXw2xThhwl

— 『Re:ゼロから始める異世界生活』公式 (@Rezero_official) February 7, 2017
---
In commemoration of the success, the official Twitter of Bushiroad Creative, which is in charge of the Shibuya
event, has held a special time-limited campaign that offers three set of two full-graphic T-shirts of Rem between
February 8 and 10. You can get the items by following its official Twitter account and retweet the announcement
tweet below. The entry will be accepted till 18:00 on Friday (JST).
【フォロー&RTキャンペーン】「Re:ゼロから始めるレムの誕生日生活in渋谷マルイ」の来場者数5000人突破記念に、フルグラフィクTシャツ2種セットを3名様にプレゼント!このアカウントをフォローしてこのツイートをRTで応募となります。2/10の18時〆切です。
#リゼロ pic.twitter.com/58SHfobUov

— ブシロードクリエイティブ公式 (@bushi_creative) February 8, 2017
---
Photos of the Shibuya store posted by Bushiroad Creative
【いよいよ明日から】「Re:ゼロから始めるレムの誕生日生活in渋谷マルイ」は2/1〜27まで開催!
日が落ちた渋谷の街で、ウインドウの中のレムが輝いて綺麗です。
絶賛店舗設営中!(間に合うのか…?)https://t.co/iBWW87UrnM #リゼロ #rezero pic.twitter.com/O08awysKJt

— ブシロードクリエイティブ公式 (@bushi_creative) January 31, 2017
(先ほどの続き)そして!可愛いレムのパネルやみんなで書き込むバースデイメッセージボードも設置。期間中前半のみの展示となる「アニメ 18話」から厳選された名場面パネルも。https://t.co/iBWW87UrnM#rezero #リゼロ pic.twitter.com/ye0ZGucuSI

— ブシロードクリエイティブ公式 (@bushi_creative) January 31, 2017
【本日より開催】「Re:ゼロから始めるレムの誕生日生活in渋谷マルイ」(2/1〜27日)本日よりスタート!お品書きや数々の特典に関する詳細はこちらにて。https://t.co/iBWW87UrnM#リゼロ #rezero pic.twitter.com/0q4tko60Il

— ブシロードクリエイティブ公式 (@bushi_creative) February 1, 2017
【レム@渋谷マルイ】朝よりお並びいただいたお客様、誠にありがとうございました。先程より一般入場開始しております。
エポスカード関連の抽選特典も大好評受付中です。
声優・水瀬いのり様によるメッセージイラストカード、大変貴重です。https://t.co/zXGqueYuDD pic.twitter.com/yR0c9FbXBB

— ブシロードクリエイティブ公式 (@bushi_creative) February 1, 2017
【Re:ゼロから始めるレムの誕生日生活2017in渋谷マルイ】
お待たせいたしました!店頭にてシャッフル抽選整理券配布のための列形成を開始しました。10時までです!本日もよろしくお願い致します。https://t.co/iBWW87UrnM#rezero#レム生誕祭2017 pic.twitter.com/rD0MOYO6G9

— ブシロードクリエイティブ公式 (@bushi_creative) February 2, 2017
【レム生誕祭@渋谷マルイ】商品のご紹介です!本日はお誕生日、ということでスペシャルロールケーキの販売が数量限定でございます。#rezero #リゼロ #レム生誕祭2017 pic.twitter.com/eS0TML4m0g

— ブシロードクリエイティブ公式 (@bushi_creative) February 2, 2017
【レム生誕祭@渋谷マルイ】その弐! 1Fにてリンガや、コラボドリンクとパフェグラも販売です!
スイーツ周りも充実しています。#rezero #リゼロ #レム生誕祭2017 pic.twitter.com/9oteQqBoSZ

— ブシロードクリエイティブ公式 (@bushi_creative) February 2, 2017
【レム生誕祭@渋谷マルイ】つづいて、カプセルトイの先行販売! 本日から展示コーナーに筐体も設置して販売いたします。一般販売に先駆けて確実なゲットをするならココがオススメです!#rezero #リゼロ #レム生誕祭2017 pic.twitter.com/ggHVkQntz2

— ブシロードクリエイティブ公式 (@bushi_creative) February 2, 2017
【レム@渋谷マルイ】イベント開催後初めての土曜日。本日のオススメは『全異世界が揺れた』謎商品「まさかのメンバーで付箋セット」です。この付箋で誰かに言伝しようとしたら…あら不思議!キャラが気になって意図が通じなくなります! https://t.co/T2K1KQJF7H #リゼロ pic.twitter.com/h6K17kqYVf

— ブシロードクリエイティブ公式 (@bushi_creative) February 4, 2017
---
Akihabara event key visual
Source: Bushiroad Creative press release
© Tappei Nagatsuki, KADOKAWA/Zero Kara Hajimeru Isekai Seikatsu Production Committee