ZEXCS and studioA-CAT work on anime production for an April 2017 premiere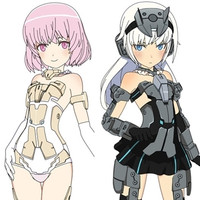 Japanese figure company Kotobukiya today announced three additional voice cast and their character visuals for the upcoming TV anime Frame Arms Girl inspired by its popular model kit series of the same name: Erii Yamazaki as Materia "Shiro" and Materia "Kuro," Hibiku Yamamura as Architect, and Minami Kabayama as Jinrai. The Keiichro Kawaguchi (Please Tell Me! Galko-chan)-directed TV anime series is set to premiere in April 2017.
Materia "Shiro"/"Kuro": Erii Yamazaki (Kokona Saionji in Nurse Witch Komugi R)
Architect: Hibiku Yamamura (Kirara Amnogawa/Cure Twinkle in Go! Princess PreCure)
Jinrai: Minami Kabayama (Mayu Urisaka in Phantasy Star Online 2 The Animation)
---
The story description: Ao Gennai, who is an ordinary first year high school girl, receives a misdelivered
package in one morning. It contains a 15cm-tall fully autonomous "Frame Arms Girl" robot named Gourai.
But Gourai is not just a normal Frame Arms Girl robot. She is the most recent prototype that is equipped
with an AS (Artificial Self) that is more sophisticated than an ordinary artificial intelligence, and Ao is the
only person in the world who can activate Gourai. "Frame Arms Girl Gourai" starts learning about feelings
by collecting the battle data, though Ao has no knowledge in the "Frame Arms Girl" system. Then their
strange but happy and cheerful daily life begins!
2nd PV with English subtitles
Key visual
---
Main Staff:
Original Story: Kotobukiya
FA Girls Base Designs: Fumikane Shimada (Strike Witches, Girls und Panzer), Takayuki Yanase
Director: Keiichro Kawaguchi (Please Tell Me! Galko-chan)
Series Composition: Deko Ako (Amanchu!, Urara Meirocho)
Original Character Design: Fumikane Shimada
Mechanic Design: Takayuki Yanase
Anime Character Design: Kosuke Kawamura (Anti-Magic Academy: The 35th Test Platoon)
CG Director: Yuichi Goto (studioA-CAT)
Music: Keigo Hotari (MONACA), Sho Ishihama (MONACA)
Sound Director: Riki Iida
Production: Heart-Bit
Anime Production: ZEXCS/studioA-CAT
Project Production: Kotobukiya/FAGirl Project
Main Voice Cast:
Ao Gennai: Yoko Hikasa (Mio Akiyama in K-ON!)
Gourai: Narumi Kaho
Stilett: Yu Ayase
Baselardo: Rika Nagae
---
Source: Kotobukiya press release
©KOTOBUKIYA / FAGirl Project