Plus a special message from the Crunchyroll Team...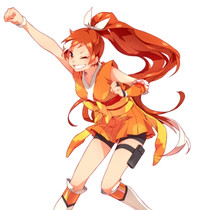 Not to toot our horns too much, but it's a pretty big day for a certain streaming anime service named "Crunchyroll". Today marks a major milestone as our company has officially surpassed over one million paid subscribers and over 20 million registered users!
From the official press release
Crunchyroll, Inc., the leading global destination and platform for anime and manga, has officially surpassed over one million paid subscribers and over 20 million registered users. One of the largest subscription video services, Crunchyroll achieved record growth in 2016, charting a 36 percent increase in paid subscribers in the last 12 months.
Crunchyroll's passionate fan base currently streams over 1.5 billion minutes of anime per month and is distributed on more than 1 billion devices around the globe. Available in every single country in the world, Crunchyroll has played a key role in the expansion of anime across a global audience.
To celebrate the milestone and give back to the community that helped make it possible, Crunchyroll will be running daily giveaways for the entire week of February 13.
Prizes include a 30 percent Crunchyroll store discount; a collection of swag from various Crunchyroll friends, including Loot Crate, Fandango, and Microsoft; and more surprises to be announced soon. In addition, premium Crunchyroll members can enter to win an entertainment bundle to enjoy their favorite anime. The bundle includes a 4K television, gaming console, streaming device, and more. Premium members, along with a guest, can also win a fully financed trip to Japan.
Today also marks the official announcement of Crunchyroll Expo, a new convention that will deliver anime enthusiasts exactly what they are looking for. Crunchyroll Expo will feature a mix of speakers, vendors, and in-person activations to provide attendees with a forward-thinking view of where anime is heading and what they should expect in upcoming years. In addition to anime, fans can also expect the latest in manga, video games, and Asian entertainment.
To sign up for more information about Crunchyroll Expo, including when you can purchase tickets, please visit: http://www.crunchyrollexpo.com
AND NOW FOR A SPECIAL MESSAGE FROM THE CRUNCHYROLL TEAM!
We've Hit the One Million Mark!!
Hey everyone,
We're super excited to share the news with you - we now have over one million premium subscribers! Not only is that a big deal for us and the entire anime industry, it means that over one million of you are directly supporting the anime that we all love (remember, half of what we make goes back to the creators in Japan)!
It's hard to believe that just a little over two years ago, as we hit the end of 2014, we were at less than half that number. It's been a long road to get here, filled with all sorts of bumps, adventures, and opportunities, and we couldn't have done it without everyone's' support.
It just goes to show that as we've all spread the message about how awesome anime is, people have listened. And the more we all watch, the more anime gets made - so everybody wins! This is just the beginning - when millions of fans unite, there's no limit to what we can do together.
Here's the even better news: We're just getting started! Our upcoming spring season is shaping up to be possibly the biggest season we've ever had, with more compelling, exciting anime than we've ever seen. We've also got a bunch of new events and initiatives coming up this year. Some of them - like Anime Movie Night or The Anime Awards - you may have already heard about. Others, like Crunchyroll Expo, will kick off for the first time in 2017. You can rest assured that we have a lot more tricks up our sleeve this year, including great Yuri!!! On Ice products and a new line of Crunchyroll DVDs and Blu-rays later this year. Plus a few things that we haven't announced yet that we think you'll really enjoy.
It wouldn't be a party without party favors, though, so look forward to a week of prizes for all our members starting this coming Monday. Full details to follow on Sunday, so keep watching us on Facebook and Twitter!
Most of all, THANK YOU!!! We literally couldn't have done it without you. Reaching this milestone is a testament to all the passionate fans around the world, and we're truly humbled by your passion for anime. We'll keep doing our best to bring you the anime we all love!
Keep spreading the power of anime!
~ The Crunchyroll Team
---
Patrick Macias is editor in chief of Crunchyroll News & Otaku USA magazine.
He is currently serializing his latest writing project, MONDO TOKYO, on Wattpad.