The series has printed over 6.4 million copies in Japan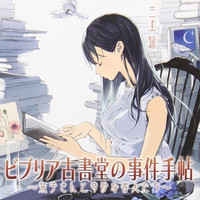 Kadokawa today announced that En Mikimai's mystery light novel series Biblia Koshodo no Jiken Techo (Biblia Used Bookstore Casebook) will get live-action and anime film adaptations. No detailed information including its cast, staff and release dates is available.
The series revolves around Shioriko Shinokawa , the owner of Biblia Antiquarian Bookshop in North Kamakura, Kanagawa Prefecture. While being overly shy, she is very knowledgeable in the world of old books and solves the mysteries brought into the shop by the customers with the knowledge. The first volume "Shioriko-san and The Strange Guests" was published from Ascii Media Works Bunko in March 2011, and the series has copied over 6.4 million copies in Japan. The main story will be concluded with the final seventh volume "Shioriko-san and The Endless Stage" to be released on February 25, but the author plans to work on its spin-off stories written by hilmself.
The first four volumes were adapted into a 11-episode TV drama series in 2013, but it was severely
hated by the fans of the original novel series. One of the reasons was the main actress Ayame Goriki's
appearance. For some reasons, she played Shioriko keeping her hair short and without glasses, though
the character has very long hair and wears glasses in the novels.
7th volume cover
1st to 6th volumes
The novel author En Mikami
2013 TV drama Blu-ray box jacket
Source: Kadokawa press release